Paperback: 192 pages
Publisher: Chosen Books (March 15, 2013)
Language: English
ISBN-10: 0800795407
ISBN-13: 978-0800795405
Price: $12.99
Purchase: Amazon | CBD | BN

Description
Baptist Preacher Takes the "Weird" Out of the Supernatural.
Demonstrating humor, candor, and personal vulnerability, this Southern Baptist preacher offers an entertaining, non-religious look at the Holy Spirit. He shares transparently, recounting his own history of depression and panic attacks until Jesus rescued him and showed him how to do the works of the Father. As Norris explains, "I had no paradigm for that." Then he challenges readers to engage with the supernatural.
Even though Jesus said we will do even greater things than he did, we don't. Norris's engaging narrative style lowers readers' defenses and opens their minds to the idea that these "greater things" are more attainable than they think. Because we are loved more than we imagine, says Norris, we are more capable of doing the Father's works than we have ever considered.
Review
I have been sitting on this review for over a week now. There is so much on my heart, I don't even know where to start. I talk a little bit about it on this blog post.
To say that reading Signs, Wonders and a Baptist Preacher turned my world upside down is a complete understatement. My mind is still spinning.
When I had selected this book to review, I had a secret agenda to discredit it. However, I couldn't find anything to discredit; not the book nor the author, Chad Norris.
Whom, I had the sincere privilege of speaking to via Skype, not one time, but twice. I really had to see for myself if this guy was for real. Sure enough, he is.
Not only is he the real deal, but he's also authentic, genuine, down to earth, funny and a nice guy. I want to be his friend now.
I just have one thing to say about Signs, Wonders and a Baptist Preacher, you all need to get your hands on it and read it. There isn't a book out there quite like it.
If you have any doubts, are skeptical or cynical like me when it comes to the supernatural, well then, this book is for you. There is nothing over the top or sensational about this book at all.  This is by far the best book I've read on the subject.
Chad Norris openly and transparently shares how he went from a baptist preacher who doesn't believe in signs and wonders, to a believer. He writes about his life and he does so with depth, sincerity and a sense of humor too.
I really enjoyed reading this book and learned a lot. Signs, Wonders and a Baptist Preacher provoked, challenged and changed me. I highly recommend it.
In conclusion, I want to thank Chad Norris for his kindness and gracious hospitality via Skype. I also want to thank Chosen Book for sending me a complimentary copy of this book to review.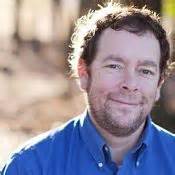 Chad Norris currently serves on the staff of City Church in Simpsonville, South Carolina, as the Director of Life Transformation. He loves the art of storytelling, and his ministry includes speaking to students and adults in a variety of settings. He has an MDiv from Beeson Divinity School in Birmingham, and he cofounded Wayfarer Ministries in 2000. Chad has co-written numerous Bible studies and coauthored six books. He and his family live in Greenville, South Carolina. You can follow him on Twitter.