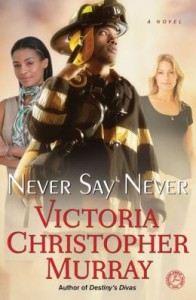 Paperback: 400 pages
Publisher: Touchstone; Original edition (June 4, 2013)
Language: English
ISBN-10: 1451695772
ISBN-13: 978-1451695779
Price: $15.00
Purchase: Amazon | BN
Description
In this emotionally charged and inspiring novel about a love triangle, secrets between best friends threaten to blow up friendships and a marriage and change lives forever.
When Miriam's fireman husband, Chauncey, dies while rescuing students from a school fire, Miriam feels like her life is over. How is she going to raise her three children all by herself? How will she survive without the love of her life? Luckily, Miriam's sister-friend Emily and Emily's husband, Jamal, are there to comfort her. Jamal and Chauncey grew up together and were best friends; Jamal and Emily know they will do all they can to support Miriam through her grief.
Jamal steps in and helps Miriam with the funeral arrangements and with her children, plus he gives her hope that she has a future. But all the time that they spend together—grieving, sharing, and reminiscing—brings the two closer in ways they never planned. . . .
Review
There is one word to describe Never Say Never, scandalous.
Victoria Christopher Murray does it again by this cleverly written novel.
Never Say Never is heart wrenching on many levels. I had trouble reading this book because it was so realistic and emotionally challenging.
Victoria Christopher Murray is a masterful writer and storyteller, she lures you in at page one.
I do not want to get into the specifics of Never Say Never, because I do not want to spoil it for you.
But if you want to go on the ride of your life, I highly recommend reading Never Say Never. You won't be able to put this book down.
Personal Disclaimer: For mature audiences only.
Victoria Christopher Murray is the author of ten Essence bestselling novels, including Too Little, Too Late and Lady Jasmine. Her most recent novel, Destiny's Divas, was nominated for an NAACP Image Award for Outstanding Literary Work (Fiction). Winner of the African American Literary Award for Fiction and Author of the Year, she splits her name between Los Angeles and Washington, D.C.