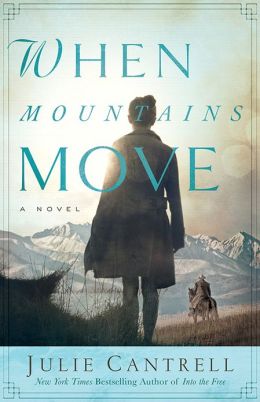 Paperback: 416 pages
Publisher: David C. Cook (September 1, 2013)
Language: English
ISBN-10: 0781404258
ISBN-13: 978-0781404259
Price: $14.99
Purchase: Amazon | CBD | BN
Description
It is the spring of 1943. With a wedding and a cross-country move, Millie's world is about to change forever.
If only her past could change with it.
Soon after the break of day, Bump will become Millie's husband. And then, if all goes as planned, they will leave the rain-soaked fields of Mississippi and head for the wilds of the Colorado Rockies. As Millie tries to forget a dark secret, she hasn't yet realized how drastically those past experiences will impact the coming days.
For most of Millie's life, being free felt about as unlikely as the mountains moving. But she's about to discover that sometimes in life, we are given second chances, and that the only thing bigger than her past … is her future.
Review
When Mountains Move is the sequel to Julie Cantrell's debut novel, Into The Free. I absolutely loved Into The Free that I was ecstatic when the sequel arrived.
Julie Cantrell does it again. She does not disappoint. What a beautiful story. I am in love with her writing and characters. Julie Cantrell is a phenomenal writer. I can not say enough about her.
When Mountains Move picks up where Into The Free leaves off, which I was thrilled about. As I wanted to know what was going to happen. I was left with an expectation with Into The Free that needed to be satiated.
When Mountains Move does that and more.
I don't want to spoil it for you by giving anything away. This is the kind of book you must read for yourself. But please, do read Into The Free first.
Julie Cantrell has become one of my favorite fiction authors. I can't wait for her next book.
In conclusion, I want to thank Wynn-Wynn Media and David C. Cooke for the complimentary advanced copy of this amazing book.
Julie Cantrell is the New York Times and USA Today bestselling author of Into the Free, which won Christy Awards for Best Debut Novel and for Book of the Year 2013 as well as the Fiction Award from the Mississippi Library Association. Cantrell has served as editor-in-chief of the Southern Literary Review and is a recipient of the Mississippi Arts Commission Literary Fellowship. She and her family live in Mississippi, where they operate Valley House Farm. Her new novel, When Mountains Move, is the sequel to Into the Free.