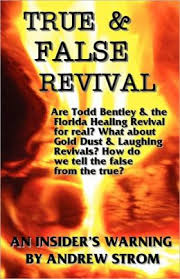 Paperback: 132 pages
Publisher: RevivalSchool (September 11, 2012)
Language: English
ISBN-10: 0979907314
ISBN-13: 978-0979907319
Price: $11.91
Purchase: Amazon
Description:
Andrew Strom is founder of RevivalSchool.com and the international REVIVAL List. He was involved for 11 years in the same Prophetic movement as Todd Bentley and Rick Joyner – until he quit in anguish over the unbiblical and bizarre things going on in that movement. As an insider, Andrew questions a lot of the 'angels', the gold dust, and "revivals" like the one in Lakeland. Read the FACTS to find out why. What is real Revival? And how do we tell the true from the false? The answers are found in this provocative book.
Review:
True and False Revival is about learning to discern which is true and which is counterfeit in the Church. Andrew Strom is an insider who knows about the counterfeit and has studied revival extensively. I consider him an expert on true revival.
This book is such an important book, especially for leaders.
Andrew Strom writes in an easy to read format. True and False Revival is a warning to the Church and a call in the wilderness.
We need John the Baptists in the world who will preach on repentance and renewal. There is too much focus on signs and wonders, materialism and secularism in the Church today.
Andrew Strom has a burden for the Church in bringing them back to true revival. This book is an excellent resource on this subject and I highly recommend it.
Andrew Strom is an international writer and speaker, founder of RevivalSchool.com and the international REVIVAL List – and author of ten books including 'The Sinner's Prayer – Fact or Fiction?' Andrew was born Downunder in New Zealand. He has been happily married to his lovely wife Jacqui for 26 years. They have six wonderful children.