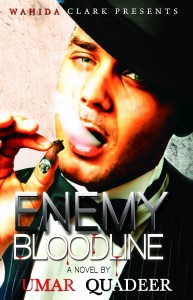 Paperback: 300 pages
Publisher: Wahida Clark Presents
Language: English
ISBN-10: 1936649071
ISBN-13: 978-1936649075
Price: $15.95
Purchase: Amazon | BN
It is an honor to present a new author whom I had the pleasure of reading his most recent book, Enemy Bloodline and thoroughly enjoying it. I wanted to know more about him and he was gracious enough to do an interview with me.
Mr. Quadeer has a fresh voice and is gifted writer. I see great things ahead for this talented young man. It is with great pleasure that I introduce to you, Umar Quadeer.
1) Tell us a little bit about yourself. Where did you grow up? How was your childhood?
I grew up in North Philadelphia. My childhood was fun and adventurous, but dangerous.
2) When did you discover you wanted to be a writer?
My father taught me how to write rap songs at 9 years old. Over the years I grew a name in the underground hip hop world and my best songs were based on stories. So I ended up branching out and writing books.
3) What are some of your favorite authors?
Of course, Wahida Clark and Rumont Tekay. But I also like Stephen King, Robert Greene, Donald Goines, Joy Deja King, T. Styles, and K'wan to name a few.
4) What do you believe help shape you as a writer?
Signing this deal with Wahida, and going through the editing phase really molded me as a writer.
5) Tell us a little bit about your book, Enemy Bloodline. How did this book come about? Was it based on true life events?
I came up with this book sitting in my cell bored. I wanted a TV in my cell and couldn't have one, so I went into my mind and started watching TV, lol!
Every night I would watch this movie in my mind and decided to write it down and that's where Enemy Bloodline was born.
All my books are based on real situations with a fiction plot.
6) Will you be writing a sequel?
The sequel is finished I'm just tweaking it. But it will be coming soon!
7) What inspires you?
Energy and thoughts.
8) What is your dream?
My dream is to become one with the universe.
9) I read you were in federal prison for a number of years? How did you get through it? What did it teach you?
Being in the Feds taught me how to associate with millionaires. It trained me to be patient during setbacks and depend on myself to make anything happen.
It starts with yourself, then other elements of help come after.
I got through my time by writing books every month.
10) What advice would you share with our youth today?
Stay focused on your goals and stay out of trouble.
11) Lastly, what advice would you give a writer who is starting out?
My advice is to study the game, don't just dive into a situation because it looks good. Build your craft and know your worth.
Umar Quadeer was raised in North Philadelphia, at a time were the city was the murder capital of the United States.
At the age of 13 Umar moved to Sacramento California where he was introduced to Crips and Bloods. At the age of 9 his father taught him how to write lyrics, memorize and recite them.
At the age of 16, Umar performed on stage with the late Notorious B.I.G., Mob Deep, and the Roots.
While doing time in the FEDS he began writing stories and decided to hone his craft. He joined a novel writing class and earned a certificate and upon his release landed a deal with Wahida Clark Presents.