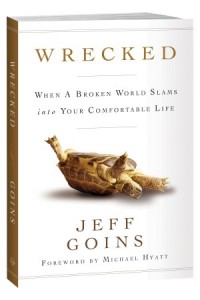 I barely made it out of bed alive this morning. Ok, maybe I'm exaggerating a little bit. But seriously, I am dead tired and it's all Jeff Goins fault.
It's his fault because I couldn't stop reading his new book last night. I literally had to peel myself away and get some sleep.
Thus, I rolled out of bed, as we say in New York City, mad tired.
I began my daily routine by turning on the water to take a shower. Guess what, there was no hot water… again.
Needless to say, this isn't what I would call an ideal way to start your day. However, the cold shower definitely jolted me awake. Seriously, you should try it some time.
While taking my cold shower, I was thinking of Wrecked. My thoughts brought me back to a time where a group of us from Times Square Church went on a short missions trip to Guatemala.
I remember when we first arrived to the mission, it was hot. We all wanted and needed to take a shower.  But, there was one little problem, there were no bathrooms or showers.
Thankfully, it began to rain.  We knew this was our opportunity to take a shower.
Now keep in mind, I'm from New York City, ok? I've only camped out maybe a few times in my life and poorly at that. I've never taken a shower in the middle of nowhere before, much less in the rain.
But there I was in the mountains of Guatemala, in the rain, with a bunch of people I didn't know and a major decision to make. Shower or no shower, is the question. I felt gross, so I decided on the shower. The next dilemma was to figure out how and where?
The shower situation definitely took me out of my comfort zone. I basically was forced to use my imagination and pray… a lot.
Thankfully, the Lord had mercy on my poor soul and answered quickly. There, hidden in view, was my salvation… a small cascade of water falling off a tin roof. When the water hit my skin, it was as cold as my shower this morning.
The only difference is, I actually enjoyed it.
This experience definitely wrecked me and so is reading this book.
Wrecked is stirring me in a major way. Jeff Goins is a prolific and amazing writer. His writing is like eating your favorite ice cream, you don't want to stop.
But whatever you do, don't buy the book yet.  You don't want to miss out on this:  http://wreckedthebook.com/.
Jeff Goins is a part-time blogger, speaker and author. He works full-time for a nonprofit organization called Adventures in Missions, where he serves as the Communications Director. In his free time, he writes books and shares ideas worth spreading.
Originally from the suburbs of Chicago, Jeff graduated from Illinois College with a double major in Spanish and Religion. There, he spent a semester in Spain, which opened his eyes to different cultures and stretched his worldview.
After a year of travel and long-distance communication, he moved to Tennessee to chase the woman who became his wife. In 2008, he married her.
Since 2006, Jeff has worked out of his home, overseeing marketing, communications, and innovation teams from afar. He is passionate about not only telling great stories, but living them, as well.
His blog, GoinsWriter.com, is one of the fastest-growing blogs on the web and is a well-respected resource for bloggers and writers. In 2011, it won the Top 10 Blogs for Writers award on WritetoDone.com. Each month, he receives over 80,000 visitors to his website.
Jeff's work has been published online and offline in a variety of publications, including RELEVANT Magazine (which has a circulation of more than 150,000 readers), Copyblogger.com (voted by Ad Age as one of the top marketing blogs online), and ZenHabits.net (one of Time Magazine's Top 50 Websites for threes years in a row).
Jeff and his wife, Ashley, live just outside of Nashville, TN with their son and dog.