I am pleased to introduce Dayna Renee Hackett Bickham who is guest posting today.  I met Dayna through the Michael Hyatt Platform Book Launch Team. I have been following her blog, A Year in the Spiritual Life for some time now. Dayna is a great writer and a spirit-filled, godly woman who I am blessed to know.  Please follow her blog or on Twitter and Facebook.
"We are all pencils in the Hand of God." – Mother Teresa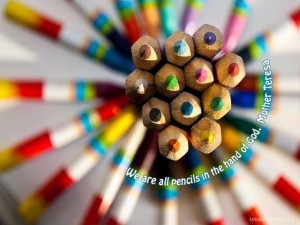 I have always loved writing in all its forms. When I was a child a pencil and paper were two of my favorite things. I would look at a blank page as a challenge and my mind would kick into overdrive to come up with a creative way to fill it up.
I am made in my Father's image. He "page" is the tablet of men's (and women's) hearts. I am His pencil. 
So are you.
You are designed. 
Each of us is designed by God with a purpose in mind. Our everyday, walking around, take the kids to the mall, change that diaper on the fly, make dinner and look fabulous while you do, lives are not our own to live.
We are made to live for our Father: to show His love to others. We were made to write on the tablets of people's hearts the love of Christ and awaken in them the desire to love God in return.
God is a Master Maker. He made the universe, all the galaxies, and you and me. Like the psalmist David, I have looked at the stars and asked "who am I, that you are mindful of me"?
You are made for a reason. 
You are an ordinary servant with an extraordinary gift to give the world. God made you for a reason.
I cannot reach inner city kids, but one of you can. You are that pencil. I cannot minister to men in prison, but one of you can. YOU are that pencil. I cannot preach on distant shores, but one of you can. YOU are THAT pencil.
There are diverse gifts and callings. Not all of us can do everything. When you find that thing God made you for, then you will know just how extraordinary His plan is for you.
 Are you ready? 
You are an ordinary servant with an extraordinary gift. You are a pencil in the Hand of God. Are you allowing Him to use you? Are you sharp and up for the task? Are you willing to own your mistakes before people and bask in God's grace when He erases your sin?
You are a pencil in the Hand of a Master Maker, what better way to create a beautiful work of art in this world than to be used by God?
What is one way you can write on someone's heart today?