Tag Archives:
Essence M
I first met Allison at the Black Pack Party in Harlem this year. I felt a connection to her right away. We just hit it off. She exudes wisdom, intelligence and talent. I took an immediate liking to her and am so happy to call her my friend. It is with great pleasure that I introduce to you, the gifted and beautiful, Allison Grace.
1) Who is Allison Grace?
Allison Grace is many things. I'm a woman, mother, daughter, author, introvert, comedian, master of sarcasm, author and unicorn. LOL.
2) Are you a native New Yorker?
Yes. Born and raised in the Bronx, New York. I've lived in Brooklyn and Harlem as well.
3) I read your love for reading and writing started early on. What was the first book you read that ignited your passion for writing?
The first book I read was Whoreson by Donald Goines. I didn't know how much it would affect me until later on. It was my mother's book. I used to sneak peeks of it when she was at work. The sexual nature of it ignited my passion for eroticism. Now I know why my stories are sexual in nature. When I became an adult I ventured more into romance and urban fiction. The first urban fiction novel I read was A Hustler's Son by T. Styles of the Cartel Publications. Imagine my surprise and glee when she asked me to be a part of her Street Team in 2008 where I promoted, read and reviewed their novels to create a buzz for the company during its genesis phase. It was there that I learned the business of publishing from the outside in as opposed to the inside out.
4) Was there a particular person, family member, friend, teacher or mentor who encouraged you to write?
When I was in elementary school my second grade teacher encouraged me to write an essay and entered it into a contest. Because of that, I won and had to read it to all of my classmates and peers. I won the District 11 essay contest. I felt proud. Aside from that, my mom and my sons always encourage me. There's nothing like being encouraged by those that stand by you. In this journey, I've also met amazing people such as Kevon Gulley of Save Black Boys who every day reminds me that I need to strive for bigger than I am. Also, my business partner Chris Styles and I speak every day. Sometimes I don't even talk to him. I just text him "Foot to Ass" and he knows we need to get cracking on projects. He will also call me and remind me that I cannot slack or else nothing gets done.
5) What has your life been like and has your experiences been infused into your books?
My life has been pretty damn interesting. I have absolutely infused some of my experiences whether positive or negative into my books. They provide the passion and emotion that causes people to text me in the middle of the night and cuss me out. I've got a slew of animated friends and I weave some of their stories into my tales as well so it's a mashup so to speak.
6) How does your ideas and inspiration come?
They come in the bathroom. I get my best ideas on the crapper or in the shower…. it's quiet and you can think without being bothered, LOL.
7) What is your writing process? Do you write every day and for how long?
I try to write every day, but since I work a full time job, it's not always possible. What I do is write in my phone when I can. Most times I zone out in my pajamas with my laptop and snacks. I can knock out about 5000 words in a weekend if I focus and I am passionate about the story told.
8) When you wrote your first book, what did you learn the most?
Oh boy! That book was basically born from a horrible relationship with my ex boyfriend. Lies, betrayals and broken promises caused me to pen poems and then they turned into short stories which ultimately turned into the books, Broken Promises Never Mend and Bound by Lies. I am working on finishing the series and tying it all together. Since it's been a while I need to revamp it and modernize it. It's coming though.
9) Tell us a little bit about each of your books. Which book was the most difficult to write and why?
The names of my books are Broken Promises Never Mend which is about a woman that discovers that her mate is living a double life. Because of his disrespect and betrayal, they both lose something dear to both of them.
Bound by Lies is the sequel to the above and continues where the last one left off. It chronicles the effects of what happens when one person isn't truthful and the repercussions of love, lust and lies.
Bittersweet is my third novel and is far more gritty than the other two. It's more erotic and "hood". It details the story of a woman that's a nurse by day and a stripper by night. She gets sucked in by the love of money and can't get out of its grips.
Prepaid Mistress 1 and Prepaid Mistress 2 is the story of a woman with a torrid past. She loses her mother and father respectively at important times in her life and it molds her idealism of future relationships with men. Because of that she doesn't know how to love and substitutes sex for it.
Bitch Clique Reloaded chronicles how past hurts can influence your future especially when it comes to family and most times when it comes to friends.
Blaque Widow tells the tale of a woman that's married to who she sees as the love of her life. It all changes and she realizes when it's almost too late. Struggling with abuse and addiction, she feeds her obsession with murder and ends up being out of control.
10) Typically how long does it take you to write a novel? Do you write long hand or type?
It normally takes me nine months to a year to write a book. I write with long hand at times when I don't want to miss a thought and then type it out. Nowadays I just type it and keep moving. I go over it twice and then begin rewriting it one last time before it goes into editing.
11) How has your writing and publishing journey been thus far?
It's been interesting to say the least. I've met some phenomenal people that have influenced me and encouraged me. I've also met some evil sons of bitches that are praying for my demise. To them, I tilt my hat because what's for me, will be. I no longer try to please people. At the end of the day it's OKAY to be selfish because not everyone will love your work but those that do, you push hard for them because THEY are your core fans and audiences.
12) What would you like to see change in this industry?
I doubt it will change but the backbiting… There's enough love out here for everyone. NO one has to lie, cheat or steal to get ahead. It's the norm however and it gets people where they need to be. I've been tempted to go that route but I see greater things beyond that road so I don't dare. My blessings come from GOD not man. The end will justify the means.
13) What are specific things you did to hone your craft?
READ, READ and READ some more. I read outside of my genre and I read some within my genre when I am not working on a project. I tend to watch well written shows and translate them into how I would have written them. It takes a lot of practice, patience and perseverance.
14) How do you develop your characters?
Very carefully…. my characters are a mash up of myself and some of my friends and family. I also people watch when I travel. They show you much with their body language.
15) Do you learn a lot from the editing process? If so, what specifically?
The editing process showed me that you cannot edit your own book! Aside from that there's a difference in line editing, copy editing and developmental editing. Those are the most common ones used and should be apart of the process each and every time. Please EDIT PROFESSIONALLY!!
16) If there was one thing you could do differently, what would it be?
I would have devoted more time to building my brand. It's a long hard process and I'm still not as known as I should be with the amount of books I've written. I know however the more I grind out good material then people will want more from me and I will garner the attention I deserve.
17) What do you want your readers to take away from your books?
In all my books, there's a woman that struggles. She struggles with if she's pretty enough, if she's a good mother, if she's sexy enough, if she makes enough money. I want my readers to understand that without struggle there's no progress and my characters make it through to the end even though their future appears dim. There's truly a lesson in it all and a testimony when it all boils down to it.
18) How do you see yourself in five to ten years?
In 5-10 years I see myself on the New York Times Bestsellers list…….. in my home with my husband and my dog relaxing on our porch in Atlanta. I see myself basking in success and working for myself as an author published by a major imprint. I know that's an anomaly now but it does exist and I want to continue to believe it can be my reality.
19) What new projects are you currently working on?
Shit! The true question is what am I NOT working on!? I'm working on Prepaid Mistress 3 as well as beginning another series for Sevyn McCray Presents. I am also working on two novels under my own imprint. One of them is something you all have been waiting on for a few years. Another is something new and fresh in a different genre than many are used to seeing me write in. I'm also collaborating with my business partner on a web series entitled "Slow Sippin… Yes LOVE I'm talking to you". This collaboration is with Chris Styles, from out of Brooklyn. New York. He is a wonderful spoken word artist/poet and author. It is slated for release on Valentine's Day 2016. We are super excited about it.
20) Lastly, what advice would you give a novice writer?
Write from your heart. It's your heartbeat translating onto those pages. Five hundred people will have the same beating heart but no two have the same rhythm. Pay attention to your own!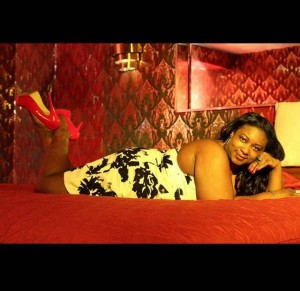 Meet Allison Edwards formerly known as Essence M & now known as "Allison Grace". The beautiful brain behind Illuminnessence Publishing, founded in  2007 by this avid writer/ reader who began her love affair with words at a tender age. Allison went on to create an extensive catalog of unpublished works including poetry & short stories.
Allison's passion for words began in early childhood, she had always been fond of reading about life, love, poetry and short stories. As she matured, she challenged herself to hone her craft, exploring various story lines and navigating into the tumultuous world of adult relationships. Throughout her teen & young adult years she decided to put pen to paper and indulge one of her fantasies, to become a writer. Some of her favorite authors include Donald Goines, VC Andrews, Jackie Collins, Judy Blume and ZANE. This eccentric choice of novels allowed her to see different genres, writing styles and what they entailed. Each were very different and taught her a lot with regards to target audiences, story lines, and descriptions. Nothing prepared her however for her venture into Urban Literature.Allison's first experience with Urban Lit began when she, as an avid reader received a message from one who promoted for a brand new unknown publishing company and was seeking assistance in promoting novels. Members would receive a chance to win free books and other spectacular prizes. Allison jumped at the chance and was soon an official Street Team/Pep Squad member of the "Cartel Publications" spearheaded by Essence Best-selling Author T Styles and her partner Vice President, Charisse Washington. They both would play an important role in Allison's literary career later on as mentors.Their influences and support caused Allison to link up with KingPen A.S of HHEAT Magazine and she was able to co host a show with him featuring authors on Blog Talk Radio. Authors interviewed include K.D Harris, Jason Poole, Iesha Brown, and much more. This allowed Allison access to an industry untapped where new and established authors were able to speak with her regarding novels they wanted to promote. She then took on the responsibility of hosting her own radio show which showcased authors such as Takerra Allen, Tanisha "Mahogani P" Pettiford as well as others. During this time, Allison shamelessly continued to promote The Cartel Publications and began writing her first novel.
It is with that unwavering tenacity that we've arrived at this point. Allison's first venture into self publication "Broken Promises Never Mend" became available in paperback in January 2010.  An amended version of which was released June 2010 in paperback, which features a new cover. It premiered on Amazon for Kindle, as of June 2010 as well. Allison learned various lessons while putting this novel together. Some of which she's still learning to this day and with every novel she improves her craft and tries harder. She proved that by releasing a follow up to her debut less than a year later showing naysayers that she wasn't a one hit wonder.
The sizzling sequel Bound By Lies debuted on Amazon for Kindle, February 2011 to rave reviews and is still causing mouths to drop with an ending that rivals its predecessor. Both novels are considered an "underground success" and were edited by Brandie Randolph of Editing Couture. Allison followed up with a novel for the streets entitled Bittersweet which showed the world that she was here to stay. During a brief hiatus, Allison published a short story series (Bitch Clique) that brought just as much drama as an entire season of "Scandal".
Allison is currently focused on a collection of other works slated for release in 2016, under her  imprint "Full of Essence Publications". The idea to reinvent herself came about with prayer and the desire to be so much more than she already established herself to be. In 2013, Allison Grace was signed to an independent publisher "Sevyn McCray Presents" spearheaded by Sevyn McCray and David Weaver of SBR Publications. Her novel under that imprint PrePaid Mistress debuted at number 5 on the Amazon Bestsellers list for African American women's fiction. She followed up with the sequel Prepaid Mistress 2 and also revamped her ebook series Bitch Clique Reloaded into a full length action packed standalone. in 2015, Allison released an emotionally charged novel focusing on domestic violence and addiction entitled Blaque Widow. Allison anticipates an abundance of blessings in 2016 and beyond beginning with work on other titles she's got in store as well as promoting authors that seek her assistance in publishing.
"I was blessed to enter this industry and know how hard it is, so the least I can do is give back." she says with a gleam in her eye and a smile on her face. This native New Yorker prides herself in assisting others and promotes literacy to her children. This isn't the end of Allison Grace and we can tell she's got a long way to go but the rewards have been phenomenal.
You can follow Allison Grace on Facebook, Twitter and Instagram.
Posted in

Author Interviews, writing
|
Also tagged A Hustler's Son, Allison Edwards, Allison Grace, Bitch Clique Reloaded, Bittersweet, Black Pack Party, Blaque Widow, Bound by Lies, Broken Promises Never Mend, Cartel Publications, Chris Styles, Donald Goines, FullofEssence, Harlem, Illuminnessence Publishing, Kevon Gulley, Prepaid Mistress 1, Prepaid Mistress 2, Prepaid Mistress 3, Sevyn McCray Presents, T. Styles, Whoreson
Leave a comment
Free Updates

Sign up for updates and get the latest book reviews, articles, and news from OrdinaryServant.com. Just enter your email address below:

Follow

Recent Posts

Recent Comments

My Guest Posts

My Publishers

Categories

Archives

Previous Archives

Review Policy

Categories

Categories