Tag Archives:
Nashville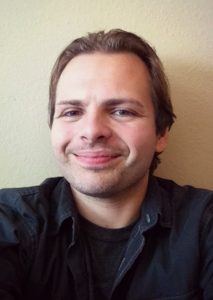 In 2012, I had the pleasure of connecting with Jim Woods on Twitter and then meeting him in person at Jon Acuff's Quitter Conference held in Nashville. Jim was so kind, encouraging and gracious toward me. I've witnessed his growth as a writer and I am honored to be interviewing him.
*************
1) When did you know you wanted to be a writer?
I think it was when I wrote a report in the fourth grade. I was really into nature and I wrote about snakes. I realized how much fun it could be to do research and then telling a story about my findings.
2) How did you develop the confidence to find your voice as a writer?
I think it was more through practice and trial and error. That being said, writing how you talk is always a great place to start.
3) Were there any books you read that helped shape and mold you as a writer?
Absolutely! I love Steven Pressfield's Do The Work and War of Art. Also, I have a lot of fiction influences: Edgar Allen Poe, Elmore Leonard and J.D. Salinger.
3) What did you do before you transitioned into being a full-time writer?
I was an accountant for over 15 years. That's hard to believe now!
4) How long did the process take? What steps did you take in making your dream a reality?
About three years. It was a long long three years. Writing as much as possible, networking, going to conferences, meeting as many people for coffee as possible.
5) Now that you have succeeded, what is it like being on the other side of the rainbow? Has it been anything like you had imagined?
It's like a good struggle, like when you're tired after working really hard. You're exhausted, but at the same time very satisfied.
To answer your other question, it's harder than I thought it would be. It can be hard to unplug from the work.
6) What does your writing process look like?
I like to watch my work as much as possible. I am a momentum-based emotional writer so I like to find some easy wins and then go from there.
7) What is the hardest thing about being a full-time writer?
It's pretty lonely and rejection comes with the territory.
8) How do you encourage yourself to keep going?
I talk to other writers and learn from them. Whatever the circumstance, it is very likely that someone else can relate.
9) Where do you see yourself in the next five years?
I just want to work with good people and keep telling good stories.
10) Are you working on any new projects?
About a month ago I created an event called the Finish Your Book Summit where I interviewed 16 authors who have written over 100 books. It's still live, so you can access the interviews by going to finishyourbooksummit.com.
11) What advice would you give to someone starting out?
Don't be afraid to start out slowly. Build a good writing habit—even if it is just for 5 minutes a day. Over time you'll build momentum and see serious results!
Thank you for a wonderful interview, Jim.
*************
Jim Woods is a freelance writer, author, author assistant, and writing coach that loves to help others tell better stories. You can connect with him at jimwoodswrites.com.
I had the pleasure of meeting Ivy Symone at the King Publishing Group Lobster Yacht cruise in Manhattan and again, at the Harlem Book Fair. She is an absolute sweetheart and extremely gifted writer. I loved, loved, LOVED her book Crush.  I am so happy to have been able to interview her.
1) How did you come up with the name Ivy Symone?
Well, my previous publisher suggested I come up with a pen name. I thought of Maxine Simone. When I began writing around ten  (the summer before 5th grade) I created my first couple: Max and Simone. My cousin loved Max and Simone! If you ask her about any of my current work today she'll tell you those couples are okay but she want Max and Simone! But finishing the answer to the question, my previous publisher said Maxine sounded old so she suggested Ivy.
2) How did you like growing up and living in Nashville, TN.
As a child it was okay because it was all I knew. I didn't know other places existed outside of Nashville and Murfreesboro, the city where I was born. As I got older I thought it was boring and country. But now, give Nashville a few more years…it's going to be booming! The changes and the growth that's occurring now…It's really becoming a nice little city.
3) What was your earliest recollection of writing? Do you remember what you wrote?
Lol…yep. I think I answered that in question one. Max and Simone were in high school dealing with friends, family, and school. They were caucasian. Simone was the red head from the 80's sitcom Head of the Class and Max was this dark hair guy with pretty blue eyes from this 80's karate movie I had watched with my cousins. And that fact is interesting too because I kept Abe from Why Should I Love You with dark hair and blue eyes and originally I wrote Lovely as a redhead.
4) I read somewhere that you wrote in your earlier years, and then you started again in your adult years. What prompted you to write again in your adult years?
Writing in my adult years happened when things in my life weren't so good. I used it as an escape; somewhat like a form of therapy. This last time, back in 2012, I was just bored. I got my first smartphone, a blackberry. I started writing on it. I was glued to that phone writing story after story. I went through three batteries too.
5) Who was your greatest influence, motivator and supporter in your writing journey?
Motivator and supporter would be my mama and my cousin Geneva. They knew writing was something I've always done but I never realized it was a passion until someone pointed it out to me. I just did it. End one story and start another one for no one but me to read. I didn't even think of publishing until my mama mentioned it to me. I can't remember what she was watching, but they had Jasinda Wilder on there talking about how she and her husband had published all of these titles on Amazon and how they were able to climb out of their financial hole with their royalties. She said to me, "Hey, why don't you do what she did." I scrunched up my nose and was like, "Eh, I'll think about it."
6) What was it like writing your debut novel, Why Should I Love You?
Man! If I had kept every version I wrote of that story! I still got two of them on my desktop that went very differently than the one I published. But I had been working on that concept since about 2012.
7) How long did it take you to write it?
The final version took me a couple of months.
8) Did you find it hard?
Nope.
9) How do your creative ideas come from?
They come from many things. A song, a movie, a poem, driving my car and seeing people interact, my problems, someone else's problems…I just twist it up in my own way.
10) Do you write every day? When do you find it the best time to write? Do you have a favorite spot?
No, I do not write every day. What's funny is, I can go two months without writing anything, but as soon as an idea hit me and it plays out in my head, I can write it in a matter of days. I think I write best over night. No favorite spot.
11) My favorite character is Jah from your book, Crush. How did that character come into being?
Jah, Jah, Jah…Originally Jah was not supposed to be how he turned out to be. I think what happened was too much of myself, the inner me came out in his character. Then I mixed in some traits from a couple of other people I know.
12) How do you develop your characters?
Hmmm…most of my characters have a little bit of me in them, especially the men. That's why most of them are flawed, but sensitive and loving. But I usually think of the character, picture them in my head, come up with their personalities, anything special about them, and then give them a name.
13) Were there specific things you did to perfect your craft?
Research, read, and constantly writing. It isn't perfected and probably won't ever be because I'm forever actively trying to evolve as a writer.
14) What are some of your favorite books and authors?
Mary Monroe is one of my favorites. Her Upper Room is crazy. I love her humor. Zane, Eric Jerome Dickey, Carl Weber, Mary B. Morrison and E. Lynn Harris are my greatest influences. I love all of their work.
15) What are some of your hobbies, other than reading and writing?
Watching horror movies all day long!
16) You recently started your own publishing company. How did that come about?
Poison Ivy Publishing came about because I had a lot of people, aspiring authors hitting me up in my inbox seeking advice and inquiring about publishers. Some would say, if I started a company they would sign with me. So I was like, okay if you're not going to sign with King Publishing Group (who I'm signed to) then I ain't gonna keep giving all of this advice and all of these pointers on writing. I asked my publisher, Tremayne Johnson—he's the best by the way—how did the sub company thing work. I wasn't really ready, but he was like, naw you ready for the next level. Sooo…PIP is here!
17) Did you believe Crush would blow up the way it did? How did you feel?
NO! Listen, I wrote that book in seven days because I was trying to beat another label mate at the time. We had a little challenge going on. I wrote it and thought it was blah! I even asked my publisher for it back. I kept doubting it and thinking no one was gonna get the storyline and no one was gonna like Jah. I was thinking it was going to be my first book  and not do so well. But man! When it dropped and a couple people were talking about it, I was like…okay…I guess they like it. Then I woke up the next morning and it had landed at #4 on the Amazon AA Urban bestsellers' chart I was like WHAT! But even after that, I think what got me was that it began buzzing everywhere. I told Tremayne, "I don't care if it don't ever see number one on that chart, I'm just thrilled that people are talking about it."
18) What inspires and motivates you?
I really don't know. I can't give you anything deep right here. The readers I guess. Their anticipation of something good to read from me motivates me to keep at it hoping to give them something new, different, and good. Their enjoyment of my work is rewarding. I love it!
19) How do you balance writing books and now publishing?
Uhm…ask me this in six months.
20) Last, but not least, from everything you learned as an author and now a publisher, what is the best advice you can give a novice?
Study, read, research, and write. Do everything you can to improve your craft. Establish a style, be original. Be open and have a willingness to learn. Don't get into writing as a quick way to earn a few dollars. I believe a person does their best when writing is something they absolutely love regardless of the money making potential. Develop thick skin and have patience. When looking for a publisher, make sure you get with someone that align with who you are and share your vision. Make sure they believe in your work just as much as you do. Take pride in your work; it's a direct reflection of you!
Thank you so much, Ivy. I wish you nothing but success in your future projects.
My name is really Ada Henderson but the literary world know me as Ivy Symone. I was born in Murfreesboro, TN but was raised the majority of my life in Nashville, TN. Writing for me began at the age of 10 when I was actually writing full stories. My cousin would read chapter by chapter and would rush me to complete the next one. Later in adulthood, I picked up writing again as an outlet to escape my day to day life when things seemed dire.
In 2013, my mother advised me to take my writing skills to a different level and consider getting published. In early 2014, I signed on with my former publisher and dropped my debut novel, Why Should I Love You in April of 2014. Why Should I Love You? 2 dropped later in August. After being released from WHP, I signed under King Publishing Group and dropped the third installment to my first series Why Should I Love You? 3 as well as another series Secrets Between Her Thighs. I've since put out Secrets Between Her Thighs 2, Never Trust A Broken Heart, and CRUSH and CRUSH 2. Crush 3 is due to be released November 21, 2015.
I currently reside in Nashville, TN with my three kids. I also have a fourth child but she's grown and married and out of my house. When I'm not doing my two favorite pastimes reading and writing, I enjoy cooking, watching horror movies and spending time with my close family. I'm just a laid back goofball with a wicked sense of humor. I love to laugh!
You can follow Ivy Symone on Facebook, Twitter and Instagram.
Posted in
Author Interviews
|
Also tagged Ada Henderson, Carl Weber, Crush, Crush 2, Crush 3, E. Lynn Harris, Eric Jerome Dickey, Ivy Symone, Jasinda Wilder, King Publishing Group, Mary B. Morrison, Mary Monroe, Never Trust A Broken Heart, Poison Ivy Publishing, Secrets Between Her Thighs, Secrets Between Her Thighs 2, Tremayne Johnson, Upper Room, Why Should I Love You, Why Should I Love You? 2, Why Should I Love You? 3, Zane
Leave a comment
This is Jon Acuff. He was kind enough to pray for me while I was dying of laughter. I was laughing so hard they were going to have to carry me out on a stretcher. I kid you not.
Anyone who can make me laugh and cry in one sentence is seriously gifted. I tried to hold back (as I was sitting in the front row) but to no avail. I couldn't help myself. I do not remember laughing and crying so much in a long time. My stomach still hurts days later from attending the Quitter Conference.
I believe the Lord wanted me at this conference. I had all the excuses in the book not to go, but yet and still, I felt the nudge of God telling me to go. The week leading up to the conference all hell broke loose. I can see why now, I was blessed beyond measure.
I have to be honest and admit that initially I did not have high expectations. I was even wondering if I was wasting my time and money by going. Also, leaving my family behind was definitely not my comfort zone. My boys were not feeling my leaving them.
As as matter of fact, my eldest son told me to never to do that again. He said next time I have to take him with me so he can make sure I am ok. I guess next time we'll have to make it a family vacation.
Initially, I thought the Quitter Conference was just a lot of hype. But I was so wrong. This conference was unlike any other conference I have been to in my entire life. I am not exaggerating.
I can see why everyone makes a big deal about Jon Acuff. He is such an authentic, down to earth and great guy. I had the pleasure of meeting and speaking with him a couple of times at the conference.
Let's just say this conference made me believe in my dreams again. Hello world, my name is Pilar and I am a reborn dreamer.
Besides hearing Jon Acuff, I also got to hear wonderful speakers such as Al Andrews, Matt Chambers, Jeff Goins and Alli Worthington. What an amazing line up.
Last but not least, the absolute treat of this conference was listening to Jon Acuff's favorite band, Seryn. They are now my favorite band. I want everyone to know about Seryn because I had a spiritual experience listening to them. I have never felt so much joy listening to a band in my life.
I have been a lover of music my entire life. I am also a singer, so I have been exposed and my ear trained to know good music. This band is simply amazing. You must see them live to get the full effect. Each band member knows how to play several instruments extremely well. They are virtuosos.
Seryn's lead singer Trenton Wheeler (isn't that a cool name), absolutely poured himself out. He is an exceptionally talented artist. His voice is unique, his sense of rhythm impeccable and his gift of playing several instruments is out of this world.
I guarantee you if you see them play live, you will be mesmerized and left in a trance. Since hearing them, all I've been doing is talking about them. I am hoping they will come play in New York City.
Thanks to my dear Quitter friends, Jon Acuff and the Quitter Conference, I am a reborn dreamer. I have renewed hope to pursue my passions and dreams. I was able to reconnect with my deep love of music and singing by going to this conference. I am not too old and I haven't missed the boat either. I am right where God wants me. So I am no longer dreading turning 46 in two weeks.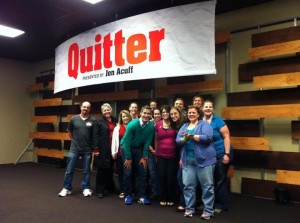 If there is one thing I took away from this conference is our dreams are not ours, but for others. I was deeply moved and inspired by this concept and it helped change my view of dreams.
In conclusion, I want to share a link of one of my favorite songs by Seryn. If you like their music, I encourage you to buy their latest CD on ITunes. You won't be disappointed.

Posted in

blogging, writing
|
Also tagged Al Stanley, Alli Worthington, Amy Anderson Fasbinder, Andi Cumbo, Christine Niles, Dreams, Jamie Kocur, Jeff Goins, Jim Woods, Jon Acuff, Matt Chambers, Music, Quitter Conference, Seryn, Social Media, Tammy Helfrich, Trenton Wheeler, Twitter, Unknown Jim
19 Comments
Free Updates

Sign up for updates and get the latest book reviews, articles, and news from OrdinaryServant.com. Just enter your email address below:

Follow

Recent Posts

Recent Comments

My Guest Posts

My Publishers

Categories

Archives

Previous Archives

Review Policy

Categories

Categories