Tag Archives:
Resilience
Paperback: 288 pages
Publisher: Scribner
ISBN-10: 074324754X
ISBN-13: 978-0743247542
Price: $17.00
Purchase: Amazon | BN
Description
Jeannette Walls grew up with parents whose ideals and stubborn nonconformity were both their curse and their salvation. Rex and Rose Mary Walls had four children. In the beginning, they lived like nomads, moving among Southwest desert towns, camping in the mountains. Rex was a charismatic, brilliant man who, when sober, captured his children's imagination, teaching them physics, geology, and above all, how to embrace life fearlessly. Rose Mary, who painted and wrote and couldn't stand the responsibility of providing for her family, called herself an "excitement addict." Cooking a meal that would be consumed in fifteen minutes had no appeal when she could make a painting that might last forever.
Later, when the money ran out, or the romance of the wandering life faded, the Walls retreated to the dismal West Virginia mining town — and the family — Rex Walls had done everything he could to escape. He drank. He stole the grocery money and disappeared for days. As the dysfunction of the family escalated, Jeannette and her brother and sisters had to fend for themselves, supporting one another as they weathered their parents' betrayals and, finally, found the resources and will to leave home.
What is so astonishing about Jeannette Walls is not just that she had the guts and tenacity and intelligence to get out, but that she describes her parents with such deep affection and generosity. Hers is a story of triumph against all odds, but also a tender, moving tale of unconditional love in a family that despite its profound flaws gave her the fiery determination to carve out a successful life on her own terms.
For two decades, Jeannette Walls hid her roots. Now she tells her own story.
[Click to see my vlog review here: https://youtu.be/LniPt3nakdw]
Review
The Glass Castle is one of the best memoirs I have ever read, and I have read many.
Jeannette Walls is a beautiful writer, and her memoir reads like novel. It is moving and unforgettable. It left a lasting impression on me.
If I were to describe this memoir in one word, it would be resilience.
If you have never read a memoir before or if you love memoirs, The Glass Castle is the one to read.  I highly recommend it.
Jeannette Walls is a regular contributor to MSNBC.com, she lives in New York and Virginia and is married to the writer John Taylor.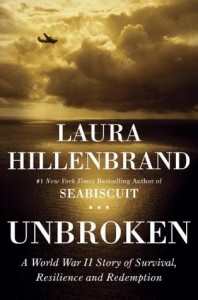 Publisher: Random House
ISBN-10: 1400064163
ISBN-13: 978-1400064168
Price: $28.00
Purchase: Amazon | BN
Description
On a May afternoon in 1943, an Army Air Forces bomber crashed into the Pacific Ocean and disappeared, leaving only a spray of debris and a slick of oil, gasoline, and blood.  Then, on the ocean surface, a face appeared.  It was that of a young lieutenant, the plane's bombardier, who was struggling to a life raft and pulling himself aboard.  So began one of the most extraordinary odysseys of the Second World War.
The lieutenant's name was Louis Zamperini.  In boyhood, he'd been a cunning and incorrigible delinquent, breaking into houses, brawling, and fleeing his home to ride the rails.  As a teenager, he had channeled his defiance into running, discovering a prodigious talent that had carried him to the Berlin Olympics and within sight of the four-minute mile.  But when war had come, the athlete had become an airman, embarking on a journey that led to his doomed flight, a tiny raft, and a drift into the unknown.
Ahead of Zamperini lay thousands of miles of open ocean, leaping sharks, a foundering raft, thirst and starvation, enemy aircraft, and, beyond, a trial even greater.  Driven to the limits of endurance, Zamperini would answer desperation with ingenuity; suffering with hope, resolve, and humor; brutality with rebellion.  His fate, whether triumph or tragedy, would be suspended on the fraying wire of his will.
Review
Where do I even start? How can I review this incredible book? With Amazon having almost 5,000 reviews at a five star rating… what or how could I possibly add to it, except that this is probably one of the best creative non-fiction books I have read in a long time.
A pastor friend of mine recommended that I read Unbroken a year ago. I just picked it up recently and finished it over the weekend. I couldn't put it down.
This book stretched me as a reader, because it's not the kind of book I gravitate to. I'm not into books about war. So I'm guilty of judging this book on that premise alone.
I admit, I had to put the book down a few times because I was struggling. At the same token, I kept picking it back up because I needed to find out what was going to happen next.  I am glad I persevered and finished it because the ending is unbelievable.
There were times I thought, did this really happen? The story seems surreal, it completely boggles the mind.
If I summarize this book; it was about humanity (the good, the bad and the ugly), the will to live and the resilience of the human spirit.
Unbroken will surprise, refresh and give you hope. It's a beautiful biography of an American war hero, Louis Zamperini. Someone I never heard of before, but now one of my heroes.
Laura Hillenbrand is a brilliant writer, Unbroken is amazing and I can't recommend it enough.
Laura Hillenbrand is an American author of books and magazine articles. Born in Fairfax, Virginia, Hillenbrand spent much of her childhood riding bareback "screaming over the hills" of her father's Sharpsburg, Maryland, farm. A favorite of hers was Come On Seabiscuit, a 1963 kiddie book. "I read it to death, my little paperback copy," she says. She studied at Kenyon College in Gambier, Ohio, but was forced to leave before graduation when she contracted Chronic Fatigue Syndrome, with which she has struggled ever since. She now lives in Washington, D.C, and rarely leaves her house because of the condition. Hillenbrand married Borden Flanagan, a professor of Government at American University and her college sweetheart, in 2008. She described the onset and early years of her illness in an award-winning essay, A Sudden Illness.
Posted in

book reviews, christianity, faith, forgiveness, prayer, writing
Also tagged Japan, Laura Hillenbrand, Louis Zamperini, POWs, Random House Publishers, Unbroken, World War II
Leave a comment