Tag Archives:
Study Bibles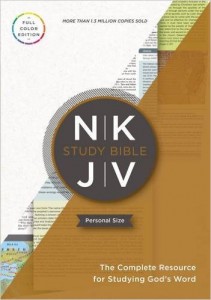 Paperback: 2400 pages
Publisher: Thomas Nelson
Price: $29.99
Purchase: Amazon | CBD | BN
Description
The NKJV Study Bible, the most comprehensive study Bible available, now available in a handy personal size with words of Christ in red! The acclaimed NKJV Study Bible is the most complete study system for all who desire accurate study in God's Word. The Second Edition includes more features to make it the best all-purpose study Bible. Using the trusted New King James Version, The NKJV Study Bible has "the mind of a scholar and the heart of a pastor." Nelson's skilled team of scholars has produced the system to reach for when study in God's Word is the goal.
Features include:
NEW attractive new full-color page design
NEW stunning Bible-land photos and graphics
NEW in-text maps and charts
Full cross-references with textual notes
Word studies and indexes
Bible Times and Culture Notes
Book introductions, outlines, and timelines
Reader-friendly notes and articles ideal for extended study
Deluxe NKJV Concordance including proper names
Review
I happen to love Bibles, so I was curious to see what the NKJV Study Bible would offer, and was pleasantly surprised.
Other than the print being too small for my taste and it being on the bulky side, everything else about this particular bible is to my liking.
I love the color photographs showing the locations corresponding with the verses in connection with biblical history. The extensive cross referencing, exhaustive study notes, word studies and more. This bible is jam packed with helpful information, it's amazing.
If you want to dig deeper in studying the Word of God, then the NKJV Study Bible is the one for you. I highly recommend it.
Disclosure: I received a complimentary copy from the publisher in exchange for an honest review.