Tag Archives:
youth
I know you are probably sick and tired of reading about Miley Cyrus.
Some don't understand what the big deal is, while others are as dazed and confused as I am.
The big question is what happened to Miley Cyrus?
This is how I remember her:
A young, wholesome, beautiful, church going singer.
But somewhere along the line, she turned into this:
What happened? What went wrong?
If I was able to speak to her, I would ask her these questions. I would try and understand her because this makes me sad.
Why did she sell out and so young too? She has her whole life ahead of her and is this the legacy she wants to leave behind? Is her raunchy and offensive performance at the VMA's worth it?
She made a complete spectacle of herself. I honestly do not see how her mother or father can think this is good. They were a church going family. Somewhere deep down, I know they can't possibly think this is right?
Does she want to be known as some tongue wagging, butt slapping, crotch grabbing, wannabe Madonna?
Somewhere down the line, she made a choice. She took a turn and it could possibly be connected with substances or her parent's break-up or her reality TV show.
But one thing's for certain, the root of it is spiritual.
It is an unclean spirit possessing young, vulnerable, innocent children like her. It is an evil force penetrating the minds and hearts of this generation. The enemy is using drugs, music and the media to captivate our youth and drive them into all types of confusion.
I continue to say, we must pray for our youth, and we must. The days are only getting darker.
Miley Cyrus' performance is just a small fraction of what's happening to our youth today.
Yes, what Miley did was shocking and appalling, but Jesus loves her.
We need to pray for her and all those who are blind like her. We must love our children enough to pray, intercede and stand in the gap for them.
Time is short.
Do you believe this epidemic goes beyond Miley Cyrus? What are your thoughts on what is happening to our youth today? Do you agree that it is spiritual?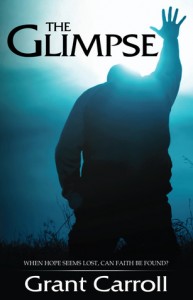 Paperback: 220 pages
Publisher: Child Refuge Publishing (July 9, 2012)
Language: English
ISBN-10: 0615644783
ISBN-13: 978-0615644783
Price: $9.97
Purchase: Amazon

The Dream
In 2007, God gave Grant Carroll a critical end times message for the American church through a chilling dream his wife had. Not long after, he began to notice uncanny similarities between the dream and real world events happening to Christians in the news. Grant felt led to turn the dream into a piece of Christian fiction that would grab people's attention, so they would understand the dire warning of coming persecution, before it's too late. That story is called The Glimpse, and it's for youth, young adults, parents,church leaders and the Christian Church at large. Its message is for you.
Description
Would you hold on to faith…if all seemed lost? Austin, Lizzie, Daniel and Jackie are four believers in Christ who are missing something in their spiritual walk, something they can't find on their own. They see the church dying around them, and they desperately grasp for answers.
Without warning, they are supernaturally transported to a place that looks and feels like the United States they know, but only at first glance. They soon learn that it's a fascist nation in which Christians and all who oppose the government are severely persecuted. They encounter a small group of teenage believers, secretly persecuted. They encounter a small group of teenage believers, secretly meeting in a high school basement. The believers take them in, and the four friends get a glimpse of a world where the church is almost dead, and faith is all that keeps believers alive.
Along with the group's leader Eric Peterson, they work to help the fledgling church survive and grow, but danger awaits them at every turn. The clandestine NSA and the National Police have eyes and ears everywhere. It's a fight to survive, and to find a way home… if there is one.
Review
When the author Grant Carroll emailed me to request if I would be willing to read and review this book, I sensed the Lord nudging me to do so. I am glad I heeded.
The Glimpse is a book every Christian in America should read. As stated above in the description, the author wrote this book as a result of his wife having a prophetic dream.
Before Mr. Carroll contacted me, the Lord had been revealing to me through Scripture, prayer and dreams how our youth is a target of the enemy. The situation is increasingly getting worse in homes, schools and neighborhoods across America.
Although this book is written as fiction, there is much truth being revealed. The Glimpse is prophetic. God is warning His church through the message of this book.
Grant Carroll is an excellent writer and The Glimpse is a timely message.
I highly recommend this book and encourage everyone to read it. You won't be able to put it down.
Grant Carroll is a freelance writer, playwright, poet and a member of American Christian Fiction Writers. He is a devoted husband and a father of four. Grant and his wife Nikki are founders of Child Refuge, a non-profit ministry with the goal of fighting for the innocence of our children and their future. His prayer is for his life and writing to impact the world for Christ.