Tag Archives:
Pure Publicity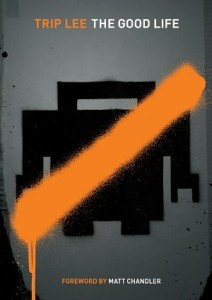 Paperback: 176 pages
Publisher: Moody Publishers
Language: English
ISBN-10:0802408583
ISBN-13: 978-0802408587
Price: 10.99
Purchase: Amazon | CBD
Description
Nicer car, bigger house, whatever your heart desires. Everybody wants to live The Good Life. But what happens when dreams become nightmares and the promise of freedom leads to a life of imprisonment? What happens when you discover that all that's gold loses its glitter? Maybe the rich and famous aren't living The Good Life. Maybe our dreams are rooted in lies. And maybe, just maybe those who have less really have more. What is The Good Life…really?
In this book, titled after his acclaimed fourth album, The Good Life, Christian rap artist and author, Trip Lee, unveils what the world, the flesh and the devil promote as the ultimate and most satisfying life. He then explains what The Good Life really is: a life within our reach and yet beyond anything this world has to offer. Imagine: The Good Life.
Review
The Good Life is only 176 pages, but potent. I confess, I thought I would breeze through the pages in no time. But I was wrong. 
The Good Life is deep and meaty. It's not a glass of milk, but a thick piece of filet mignon. I found myself chewing long and hard through this small, but powerful book. 
As you know, I read and review many books. I sometimes come across books which I believe are not doctrinally sound. However, I didn't find this to be the case with The Good Life. Trip Lee presents the gospel in such a sound and balanced way.
I've known Trip Lee by his music. He is a gifted rapper. I happen like good Christian rap music and follow him and others.
I have to say, I was impressed to see his level of spiritual maturity and insight expressed in his book. I could see him transitioning and becoming a full time pastor.
The following excerpts in the book stood out for me:
My good life begins at the end of me. (Page 61)
Many of us have used our imaginations and created our own personal gods. Almost like a Build-A-Bear or a little girls doll. We grab the parts we think are necessary, we clothe him with our own ideas, and we make him into a god that we like. Maybe our imaginary god doesn't judge anyone, or maybe he would never allow evil to happen. (Page 69)
Our culture teaches us that we can do whatever we want if we just put our minds to it. They say if you work hard enough, you will achieve it. But that's not biblically true. Listen to what the psalmist says, "Unless the Lord builds the house, those who build it labor in vain" (Psalm 127:1). Some of us will work harder than everyone else and never reach those "dreams." Unless God blesses our efforts, our work will not succeed. (Page 119-120)
Some preachers will tell you that if you obey God, He will bring all your wildest dreams to pass. They say to plan big, follow God, and watch Him give you everything you ever dreamed of. That's simply not true. Proverbs 16:1 says, The plans of the heart belong to man, but the answer of the tongue is from the Lord." Not every dream is from God, and He doesn't owe it to us to many any of them happen. We should dream big for His glory, and plead with Him to bring those dreams to pass. (Page 120)
Overall, I think this is a great book. I believe The Good Life should get into the hands of everyone, whether saved or unsaved, but mostly, our youth. I believe this book will resonate with the youth in a profound way.
I commend Trip Lee for writing such a biblically sound and relatable book. May the Lord bless him as he continues to follow, live and glorify Jesus here and across the earth. 
Thank you Moody Publishers and Pure Publicity for sending me a complimentary copy of this book to review.
The following is a song called I'm Good from Trip Lee's The Good Life cd.
William Lee Barefield III, better known as Trip Lee, is a Christian hip-hop artist under the Reach Records label. Trip Lee's music has topped Billboard charts, the iTunes chart, and has received Dove nominations and a Stellar Award. His Christ-centered and God-exalting music has reached thousands with the Good News of Jesus Christ.Trip Lee now resides in Washington, DC with his wife and is finishing his Biblical and Theological Studies degree with Boyce College. Trip's unending desire is to proclaim the grace and beauty of Jesus Christ to anyone that will listen. Ultimately, he hopes this journey will someday lead to pastoring a church.