Monthly Archives:
September 2012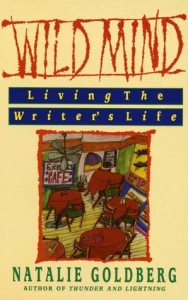 Paperback: 256 pages
Publisher: Bantam (October 1, 1990)
Language: English
ISBN-10: 0553347756
ISBN-13: 978-0553347753
Price: $17.00
Purchase: Amazon | BN
Description
Natalie Goldberg, author of the bestselling  Writing Down The Bones, teaches a method  of writing that can take you beyond craft to the  true source of creative power: The mind that is  "raw, full of energy, alive and  hungry."
Here is compassionate, practical, and often  humorous advice about how to find time to write,  how to discover your personal style, how to make  sentences come alive, and how to overcome  procrastination and writer's block — including more than  thirty provocative "Try this" exercises to  get your pen moving.
And here also  is a larger vision of the writer's task:  balancing daily responsibilities with a commitment to  writing; knowing when to take risks as a writer and a  human being; coming to terms with success and  failure and loss; and learning self-acceptance — both  in life and art.
Wild  Mind will change your way of writing. It  may also change your life.
Review
I started reading a chapter a day of Wild Mind at the suggestion of Andi Cumbo. Andi is a friend and gifted writer I have come to respect and admire.
An incredible thing happened when I heeded Andi's advice, I actually looked forward to getting up in the morning to read this book. For anyone who knows me, this is a major accomplishment, because I am not a morning person.
This morning, I read five chapters and finished Wild Mind. I was immersed in Natalie Goldberg's writing. I love this woman. Her writing is rich and beautiful. She is really a gifted writer. Each chapter brought to life an analogy or personal reflection. I enjoyed gleaning the nuggets she shared throughout the book.
Now, I'm eager to start her first book called Writing Down The Bones.
What I also find interesting is years ago when I was counseling with a particular therapist. I believe it was in my early twenties, she asked me this question, "What do you enjoy doing?" I remember blurting out, "I want to be a writer." I even surprised myself with that response. She recommended two books by Natalie Goldberg, Writing Down The Bones and Wild Mind.
I bought both books and they've sat on my bookshelf untouched for years.
I'll be turning forty six in three weeks. Yep, I'm an old foagie. You are probably wondering (much like I am), what in the world happened? Why didn't I become a writer?
Life happened. I don't know. I guess deep down I didn't think or believe I was a writer.
Until I met the brilliant writer Jeff Goins who taught me otherwise. I have no idea how it happened, but I walked into an amazing writing community on Twitter.
I started reading Jeff Goins blog, but it wasn't until I read his book called You Are A Writer (which is free today only), I came to accept that I am a writer. I will always have Jeff Goins to thank for this. (If you haven't read his book, I highly recommend it).
Jeff Goins will be coming out with another resource in a week, which I've been blessed to get a sneak peak, called Tribe Writers. Seriously, you don't want to miss this online writing course. It's going to be awesome.
I read another amazing book recently (which I also reviewed) called Let's Write a Short Story! by Joe Bunting.  He is a deep, distinguished and gifted writer. His writing is absolutely beautiful and breathtaking. He has a great website which is also an excellent resource for writers called The Write Practice.
I am thankful the Lord opened doors for me to meet these wonderful people who are great writers and read their amazing books. I have been blessed to learn and grow as a writer.
Wild Mind by Natalie Goldberg is a great book which I highly recommend to all writers on any level. There is something for everyone in this book.