Tag Archives:
The Hawk and Dove Series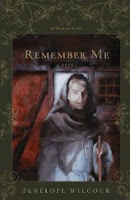 Paperback: 224 pages
Publisher: Crossway (July 6, 2012)
Language: English
ISBN-10:1433526638
ISBN-13: 978-1433526633
Price: $12.99
Purchase: Amazon

Description
Remember Me is the third of a trilogy of books focusing on the character of William de Bulmer, his conversion of life and heart, and the flowering of his ability to love.  After the brothers of St. Alcuin take William into the abbey (in the Hardest Thing to Do), he falls in love with Abbot John's sister (in The Hour Before Dawn), and now has accidentally lost all of the abbey's money.
Seasoned author Penelope Wilcock unlocks the story of one man's struggles, mistakes, and heart's longings, and traces the possibility of what it means to get things wrong and begin again. As with each novel in series, the reader is encouraged to explore a universal aspect of the Christian faith–in this case, the cost of allowing God to do what is necessary to make one whole.
If you would like to read a chapter excerpt of Remember Me, go HERE.

Review
I must admit, I don't usually read books like Remember Me, but I was delightfully surprised. What a gem of a book!
Penelope Wilcock is a wordsmith. She writes beautifully and descriptively. I was able to envision the various characters and feel everything they felt.
My favorite character was William de Bulmer. I felt compassion and sympathized with him a great deal. I was able to put myself in his shoes and identify with his dilemma.
He was vexed in spirit and seemed to have come from an abusive past which haunted him. He was also in love which just added to his inner struggle, turmoil and guilt.
I was experienced a gamut of emotions while reading this book. Remember Me made me think deeply and reflect on my own life. How many times have I failed and been judged ruthlessly by others?
This excerpt especially touched me:
"It is as we are faithful, as we are gentle, as we are humble and kind, that we remember the human and open the way for the kingdom of Jesus.  So I–or you–can be the good thief in our fragile and faltering humanity, begging him: 'I am lost, I am broken, I am done for. Please put me back together again. Please heal me. Forgive me. Please remember me.' And in so doing we also open the way for the kingdom to begin." (Page 143)
Remember Me is about love, loss, regret, forgiveness and redemption.
I highly recommend this book to young adults and adults alike.
In conclusion, I would like to thank Bonnie S. Calhoun and Crossway for the opportunity to read and review an advanced copy of this wonderful book.
PENELOPE WILCOCK is a full-time author living in Hastings, Sussex, on the southeast coast of England. Her blog, Kindred of the Quiet Way, is about a simple and spiritual Christian lifestyle. Her other books in The Hawk and the Dove series are The Hawk and the Dove, The Wounds of God, and The Long Fall.