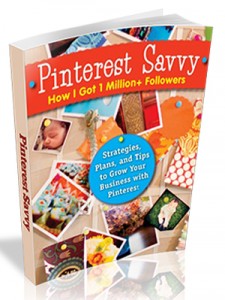 File Size: 1216 KB
Print Length: 55 pages
Sold by: Amazon Digital Services, Inc.
Language: English
ASIN: B00B86DKL6
Price: $4.97
Purchase: Amazon
Description
You'll learn:
–> How to attract more followers & increase brand awareness
–> How to achieve marketing and sales goals
–> Business-specific strategies
–> Success stories & tactics
–> Secrets from top Pinners
Pinterest Savvy: How I Got 1 Million+ Followers (Strategies, Plans, and Tips, to Grow Your Business with Pinterest) offers a comprehensive look at how to achieve success on Pinterest.
Author, Melissa Taylor, draws on her expertise as a top Pinterest user with over 1 million followers, shows how to get started and gain skills on Pinterest, and reveals her secrets to getting lots of followers.
Along the way, you'll hear from other Pinterest experts like popular blogger Amy at Living Locurto and the social media team at PBS. Plus, you'll learn business-specific tips and see real-life examples.
To help you achieve your goals, use free chapter guides available on Pinterest-Savvy.net.
Review
Have you ever thought about starting a Pinterest account, but were not sure how to go about it? Well then, Pinterest Savvy is for you.
I admit I was very limited in what I knew about Pinterest until I read Pinterest Savvy.
The diva of Pinterest, Melissa Taylor shares her tips, strategies and how she got one million plus followers.
This wonderful book takes you step by step from start to finish on how to grow your business on Pinterest.
This is a unique and fabulous resource which I highly recommend.
Melissa Taylor is an award-winning educator and writer. She writes primarily about education, children's literature, and technology for publications online and in print such as Parenting.com,
Scholastic Parent and Child, Babble.com, Colorado Parent Magazine, and others. Her first book, Book Love: Help Your Child Grow from Reluctant to Enthusiastic Reader, was published November 2012 to critical acclaim.