Kisha and I connected on Facebook and then finally met at the Black Pack Party in Harlem last May. I loved her genuine, sweet and kind spirit. I not only am grateful to call her my colleague, but also my friend. I have the utmost respect for her and all that she contributes to the publishing industry. It's with great pleasure to introduce to you, the multi-talented, Kisha Green.
1) Were you born and raised in New Jersey?
Yes, I was born in New Jersey and at the age of two, I moved to Richmond, VA with my mom only to return at age eleven after my grandmother died and have been in New Jersey since.
2) When did you start being interested in reading and writing?
I have always been an avid reader thanks to my mom. As an adolescent I enjoyed books by Judy Blume and Beverly Cleary and then graduated to the Babysitter's Club series and then once in high school, I started reading books by VC Andrews, Mary Higgins Clark, Jackie Collins and Stephen King.
3) Did anyone in your life influence or encourage you to read or write?
My mom. I remember watching my mom come home from work, change out of her nurse uniform, cook dinner, eat and spend the rest of the evening reading. This was a daily ritual.
4) Do you remember the first book you read? What was it?
Hmmm…It was story about a mouse and a motorcycle but I cannot think of the title.
5) Who are some of your favorite authors and books?
Jackie Collins is my favorite author. Her writing is exciting and outside the box and I get swept away in her words, she was a creative story teller. May she rest in peace.
6) Did you read any books that helped you in writing?
Some creative writing books and techniques about showing versus telling.
7) When was the pivotal moment when you decided to pursue your dreams?
Even though I had self-published my first book in 2007, it was not until 2011 that I decided that I wanted to do promotions and literary consultations as well as assist authors.
8) Were you afraid? If so, how did you overcome your fears?
I was initially afraid but I told myself failure was not an option and took a leap of faith.
9) When did you start your own business and what are all the things you offer in regards to your business?
In 2006 DivaBooksInc was formed but it wasn't until 2011 that I really took it serious and gave it my all. I wanted to provide quality services to authors and publishers at reasonable rates.
10) When did you decide to write your first book?
In 1999, I read Flyy Girl by Omar Tyree and a year later I said I should write a book and tried to but shelved the idea and then picked it up again only to postpone it after my mom dying. Then going through an emotional rollercoaster of feelings regarding my writing a book to finally saying I was going to do it in 2006.
11) What did you learn from the process?
I learned that hard work and patience pay off but most importantly you must remain consistent.
12) How many books have you written in total?
I have written three full length novels, participated in four anthologies and one poetry book. I am currently working on my fifth anthology that is a collection of erotica stories.
13) Which one was the hardest to write and why?
The hardest one was Dear Mommy which was my third book that tells my story of dealing with the death of my mom to a brain tumor. I self-published it through a print on demand back in 2008 and since then took the book down and have been working on it off and on to release again through my own publishing company.
14) Where do your ideas come from?
Real life experiences of myself, friends and family and IDTV.
15) What is your writing routine or process?
I write notes all the time and then sit down attempt to turn them into stores. I write at the most random times and can be anywhere. I write the best with my laptop and music playing.
16) How did you hone your craft?
Reading books.
17) You where many hats… between writing your own books, publishing other talent, promoting other talent, your talk show and blog… how do you manage and balance it all?
The grace of God. I wear many hats and equally enjoy them all.
18) How long did it take you to build your business?
Lol! I am still building. This is a full time job and I cannot stop especially when I am trying to create a legacy for my children.
19) What's next for Kisha Green?
This year I am entering the arena of publishing others and have signed two very talented authors that will be making their debut with DivaBooksInc this year and I am very excited about this new chapter in my life as well as helping these writers turn their literary dreams into published realities. I will take everything that I have learned from being a literary consultant, reviewer, radio show hostess, promoter, blogger and virtual assistant, and pour that into my authors while never giving up.
20) Lastly, what advice would you give to a novice writer?
Do not give up! Do not worry about any one telling you no, when you can create your own YES!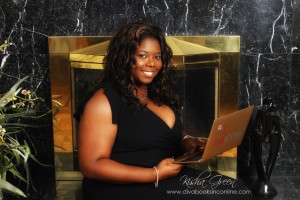 Kisha Green is no stranger to the literary world. She is the owner of DivaBooksInc, the author of several titles including the hit novel, And Even If I Did, literary consultant and promoter.
As the host of Writer's Life Chats, an online radio show, Green interviews aspiring and seasoned authors. Writer's Life Chats has been nominated multiple times for Best Blog Talk Show, winning the title in 2010 and 2011. Green is also an avid reader and book reviewer whose reviews have appeared on Urban Book Source, Shelfari, Goodreads, Amazon and other notable sites.
As a firm believer in "each one, teach one," Green launched Literary Jewels in 2011, an online resource for aspiring writers interested in self-publishing. Green has also participated in numerous panel discussions on the topic of publishing. Currently Green resides in New Jersey and is a contributing writer for a number of sites, virtual assistant and promoter for various authors and is the recipient of the 2014 Literary Excellence Award presented by Black Pearls Magazine.