I struggled with my weight all my life. I have this love/hate relationship with my body. Presently, I'm at my highest weight ever.  God bless my husband though, he still tells me I'm beautiful.  But I don't feel very beautiful.  I feel fat and I am fat.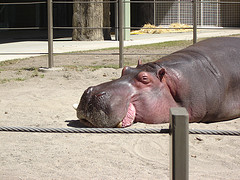 I remember the first time I felt shame connected with my weight.  It was at a beach. I must have been about maybe eight or nine years old. I had just gotten stung in the eye by a jelly fish and was crying. I was in my bathing suit and I vividly remember children laughing at me because of my weight.
The curse of being a chubby has haunted me my entire life. I guess I can blame it on genetics. We all inherited a slow metabolism. Plus, everyone in my family loves to cook and eat.
I remember kids making fun of me all the time because of my weight.  They called me wheelie tripe (whatever that is), peel a potato and last but not least, a hippo.
I've got a better one for you.  One day when I was about thirteen years of age, I was hanging out with my attractive, thin girlfriend and her guy friends. We were all chatting and listening to a song by one of my favorite bands growing up, Foreigner.
Out of the blue, one of her guy friends decides to tell me I'm bigger than a mack truck!  Can you believe it?  Out of nowhere this dude decides to say I'm bigger than a mack truck.  Meanwhile, I wasn't.  However, those words have been forever etched in my memory, never to be forgotten.
However, what I believe really took things over the edge for me was when I fell inlove for the first time. It was puppy love, but I really digged this boy. All summer long we hung out and then when school started, he completely ignored me as if I didn't exist.  I was devastated.
So I went over to him and asked if I could speak to him privately.  He reluctantly agreed.  We went into some hallway and I asked him why he was ignoring me.  He tells me I should jog around the block a couple times and lose some weight. This was his ingenious and thoughtful response.
Basically, I was cramping his style because I wasn't cool enough to be seen with him.  Well, that just did it for me.
Unfortunately, those memories still haunt me today.  I believed all the lies and it has leaked into everything I do.
However, I've been working on denying the lie, which is why I decided to be a part of Jennifer Luitweiler's "Deny the Lie" blog link-up.
It's time to deny the lies.  What about you? What lies have you been believing about yourself ?
Please feel free to share your thoughts in the comment section.