Tag Archives:
Alexandra Kuykendall
Paperback: 256 pages
Publisher: Revell (April 15, 2013)
Language: English
ISBN-10: 0800722051
ISBN-13: 978-0800722050
Price: $13.99
Purchase: Amazon | CBD | BN
Description
It takes a lifetime to know what–and who–defines you.

When Alexandra Kuykendall became a mother, she knew she had to go back to the beginning. To that hot July afternoon in Barcelona when she met her father for the first time. The only daughter of a single, world-traveling mother and an absent artist father, Alexandra embarks on a soul-searching trip into the past to make sense of the layers of her life–both the memories she experienced and the ones she wished for.
The Artist's Daughter will take you on a journey of discovery through childhood, marriage, and motherhood. Through short vignettes full of both wonder and heartache, Alexandra seeks answers to three life-defining questions: Am I lovable? Am I loved? Am I loving? If you long to better understand the path your life has taken, where it is heading, and who is guiding you, this revealing and refreshing story will push you toward those answers as it changes your heart.

Review
I guess I should call myself a book reviewer of memoirs, since I seem to predominantly read them. The Artist's Daughter does not disappoint.
Alexandra Kuykendall pens her story with such uniqueness and authenticity. I saw my reflection in many of the pages. I identified with her struggle for identity. Many of the questions she poses, I have asked myself. Reading her memoir, gave me permission to look deep within the recesses of my heart and evaluate if I am still harboring hurts, resentment and frustrations of unfulfilled expectations that were not met in my life.
Her journey parallels mine in many ways. I especially loved reading the truthfulness of her relationship with her father, her marriage and her experiences of motherhood. I appreciated the fact that she did not sugar coat or make it seem that all was perfect. I find many Christians hide behind a veneer of image and show, instead of keeping it real.
Alexandra Kuykendall doesn't do this, she is honest as she exposes truth, even if it was messy.  I appreciated the fact that she was vulnerable in telling her story with abandon.
There is something to admire and respect about her memoir. Her struggles as a woman, a wife, a mother, a friend, a daughter, etc… I told her this in a private message and I will say it again here… Well done.
This is a beautiful memoir I highly recommend to women, whether single or married, with or without children.
In conclusion, I would like to thank Revell Publishers for sending me a complimentary copy of this book to review.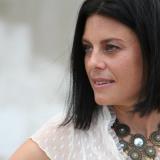 Alexandra Kuykendall is on staff at MOPS International (Mothers of Preschoolers) where she encourages mothers of young children to keep growing as they take on their new mothering identity. She is a regular contributor and consulting editor to MomSense magazine, Connections magazine, and the MOPS blog. A frequent speaker for MOPS, Alexandra has been featured on Good Morning America. As the mother of four young children, she continues to refine her mothering identity. She lives in Denver, Colorado, with her husband, Derek, and their daughters.