Tag Archives:
Revell Publishers
Paperback: 256 pages
Publisher: Revell (April 15, 2013)
Language: English
ISBN-10: 0800722051
ISBN-13: 978-0800722050
Price: $13.99
Purchase: Amazon | CBD | BN
Description
It takes a lifetime to know what–and who–defines you.

When Alexandra Kuykendall became a mother, she knew she had to go back to the beginning. To that hot July afternoon in Barcelona when she met her father for the first time. The only daughter of a single, world-traveling mother and an absent artist father, Alexandra embarks on a soul-searching trip into the past to make sense of the layers of her life–both the memories she experienced and the ones she wished for.
The Artist's Daughter will take you on a journey of discovery through childhood, marriage, and motherhood. Through short vignettes full of both wonder and heartache, Alexandra seeks answers to three life-defining questions: Am I lovable? Am I loved? Am I loving? If you long to better understand the path your life has taken, where it is heading, and who is guiding you, this revealing and refreshing story will push you toward those answers as it changes your heart.

Review
I guess I should call myself a book reviewer of memoirs, since I seem to predominantly read them. The Artist's Daughter does not disappoint.
Alexandra Kuykendall pens her story with such uniqueness and authenticity. I saw my reflection in many of the pages. I identified with her struggle for identity. Many of the questions she poses, I have asked myself. Reading her memoir, gave me permission to look deep within the recesses of my heart and evaluate if I am still harboring hurts, resentment and frustrations of unfulfilled expectations that were not met in my life.
Her journey parallels mine in many ways. I especially loved reading the truthfulness of her relationship with her father, her marriage and her experiences of motherhood. I appreciated the fact that she did not sugar coat or make it seem that all was perfect. I find many Christians hide behind a veneer of image and show, instead of keeping it real.
Alexandra Kuykendall doesn't do this, she is honest as she exposes truth, even if it was messy.  I appreciated the fact that she was vulnerable in telling her story with abandon.
There is something to admire and respect about her memoir. Her struggles as a woman, a wife, a mother, a friend, a daughter, etc… I told her this in a private message and I will say it again here… Well done.
This is a beautiful memoir I highly recommend to women, whether single or married, with or without children.
In conclusion, I would like to thank Revell Publishers for sending me a complimentary copy of this book to review.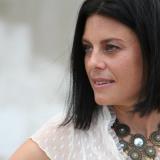 Alexandra Kuykendall is on staff at MOPS International (Mothers of Preschoolers) where she encourages mothers of young children to keep growing as they take on their new mothering identity. She is a regular contributor and consulting editor to MomSense magazine, Connections magazine, and the MOPS blog. A frequent speaker for MOPS, Alexandra has been featured on Good Morning America. As the mother of four young children, she continues to refine her mothering identity. She lives in Denver, Colorado, with her husband, Derek, and their daughters.
Paperback: 240 pages
Publisher: Revell; Updated edition
Language: English
ISBN-10:0800721438
ISBN-13: 978-0800721435
Price: $12.99
Purchase: Amazon | CBD | BN
Description
Christmas may be the most wonderful time of the year, but it's also one of the most stressful–and most expensive. Expectations run high and it's tempting to whip out the credit cards to create the perfect Christmas for your family, with lavish meals, new decorations, and the latest, greatest gadgets and fashions for everyone on your Christmas gift list.
But you don't have to overspend or go into debt to have a fabulous holiday.
Financial expert Mary Hunt shows readers how. She helps readers assess their financial situation, commit to no new debt, and think creatively about their gift list. With Mary's guidance, readers will identify what has caused them to overspend in the past and approach this Christmas with a plan and a new attitude toward holiday spending. This just might be the best gift you can give yourself and your family.
Review
Many years ago, I read
The Financially Confident Woman
 by Mary Hunt. I was blown away. I can't tell you how much I learned from this book. It completely changed my life and helped me get out of credit card debt.
Credit card debt is like walking around with a huge sack on your back. I remember those years like if it were yesterday. I am grateful I am no longer in the same situation.
When I heard about Debt-Proof Your Christmas, I had to read it. Mary Hunt's books are so helpful, full of savvy ways to learn how to budget, spend, save and much more.  You won't go wrong reading any of her books.
I don't know about you, but Christmas is a stressful time. I struggle with wanting to be generous and buy nice gifts for those I love. However, my budget doesn't allow for it.
I have been guilty of putting everything on a charge card and incurring debt. It then would take me months to get rid of the holiday debt with all of my regular monthly expenses compounding.
Debt-Proof Your Christmas served as a great reminder to me on where my priorities should be and it's not on gifts.
Unfortunately, Christmas has become a materialistic holiday. We seem to get caught up in the fervor of spending and lose focus on the true meaning of Christmas. 
With all the hustle and bustle, running here and running there, we hardly have time for what truly matters. It isn't about spending a ton of money on expensive gifts and incurring debt which only adds more stress and ultimately makes you miserable.
Debt-Proof Your Christmas put everything in perspective. I love all the tips, recipes, creative and practical ideas this book offers.
I am glad I was able to read this book before Christmas. I learned so much and will definitely implement what I learned this Christmas season.
If you struggle with spending too much around the holidays and need practical advice and ideas on how not to, then this book is for you. I highly recommend Debt-Proof Your Christmas.
In conclusion, I want to thank Revell Publishers for sending me a complimentary copy of this book to review.
Click
here
 to watch Mary Hunt's interview on the Today Show (with Kathie Lee & Hoda) talking about
Debt-Proof Your Christmas.
Mary Hunt is an award-winning and bestselling author, syndicated columnist, and sought-after motivational speaker. She is founder and publisher of the interactive website Debt-Proof Living, which features financial tools, resources, and information for her online members. Her books have sold more than a million copies, and her daily newspaper column is nationally syndicated through Creators Syndicate and is enjoyed by hundreds of thousands of
Everyday Cheapskate
readers. Hunt speaks widely on personal finance and has appeared on shows such as
Good Morning America
,
Oprah
,
Dr. Phil
, and
Focus on the Family
. She and her husband live in California.
But without faith it is impossible to please him: for he that cometh to God must believe that he is, and that he is a rewarder of them that diligently seek him. Hebrews 11:6
I woke up with this scripture on my mind. I thought it apropos given the aftermath of the Allume Conference and Hurricane Sandy.
It was a blessing to be able to attend the Allume Conference and finally meet Tricia Goyer (who is an absolute sweetheart), Mary DeMuth, Sarah Markley, Sarah Mae, Jessica Heights, Christin Slade, Kelly Thorne Gore, Rachel Wojnarowski, Christy Stroud from Tyndale Publishers, Revell Publishers, Zondervan Publishers and so many other wonderful people.
We drove three hours to get to Pennsylvania, checked in and headed over to register. I was given a beautiful bag filled with goodies.
It was my first time attending this conference, so I wasn't sure what to expect. But I was definitely excited with the line up.
Darren Rowse (a.k.a. ProBlogger) and Ann Voskamp were on the top of my list. I never heard either one of them speak before.
I was really touched by what Darren Rowse shared at his key note. He didn't speak about how to make money with your blog, but more about his testimony and faith.
I enjoyed listening to Sarah Mae and Jessica Heights key notes as well. I love their hearts.
My hat goes off to Sarah, Jessica and their entire team for all their hard work and pulling off such an amazing conference. It truly was a success.
After awhile, it began to feel more like a Christian woman's conference than a blogger's conference which was refreshing.
My favorite place was the Prayer Room which was sponsored by The Seed Company.
Isn't the prayer room beautiful? I spent my free time there to unplug, pray and write in prayer journals. The Seed Company blessed us royally.
The highlight of this conference for me was hearing Ann Voskamp speak for the first time. I never read Ann Voskamp's blog or her best selling book, One Thousand Gifts. I only heard wonderful things about her through the grapevine. Now I know what they were all talking about.
Prior to her keynote, there were two videos shown by (In)Courage and Compassion International which moved me. I love to support causes helping disadvantaged children and Compassion International does amazing work.
After the videos, Ann Voskamp began to speak and tears rolled down my face. What she spoke about pierced my heart. I was riveted and touched by her every word. What an anointed woman of God. I pray I could get a copy of her key note, because I want to hear it again. I felt God used her to confirm what He was speaking to my heart throughout the conference.
Unfortunately, I had to abruptly leave right after she spoke due to Hurricane Sandy. We left and drove home to prepare for the impending storm. I do not believe I have to reiterate how devastating this hurricane was to our city. It was truly unprecedented. Please keep us in your prayers.
I am grateful the Lord is still in control and on the throne. Despite the devastation, I chose to see rainbows in the midst of the storm. I continue to pray for all those who were affected.
Please let me know how I can pray for you today. Please leave your prayers in the comment section below.
Posted in

blogging, christianity, faith, prayer, writing
Also tagged (In)Courage, Allume, Ann Voskamp, Avodah Coffee, Blogging, Compassional International, Darren Rowse, DaySpring, Hurricane Sandy, iBloom, Jessica Heights, Mary DeMuth, One Thousand Gifts, Problogger, PureCharity, Sarah Mae, The Seed Company, Tricia Goyer, Tyndale Publishers, Zondervan Publishers
10 Comments