Tag Archives:
Andrea Palpant Dilley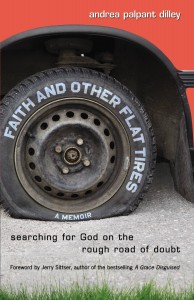 Faith and Other Flat Tires
by Andrea Palpant Dilley
Paperback: 304 pages
Publisher: Zondervan (February 6, 2012)
Language: English
ISBN-10:031032551X
ISBN-13: 978-0310325512
Price: $14.99
Purchase: Amazon | BN | CBD
Description
At age twenty-one, Andrea Palpant Dilley stripped the Christian fish decal off her car bumper in a symbolic act of departure from her religious childhood. At twenty-three, she left the church and went searching for refuge in the company of men who left her lonely and friends who pushed the boundaries of what she once held sacred.
In this deeply personal memoir, Andrea navigates the doubts that plague believers and skeptics alike: Why does a good God allow suffering? Why is God so silent, distant, and uninvolved? And why does the church seem so dysfunctional?
Yet amid her skepticism, she begins to ask new questions: Could doubting be a form of faith? Might our doubts be a longing for God that leads to a faith we can ultimately live with?
Review
Faith and Other Flat Tires is as unique as its title. The subheading reads, "searching for God on the rough road of doubt".
I have a penchant for memoirs, and this one was especially captivating.
Andrea Palpant Dilley was the daughter to Quaker missionaries who served in Kenya most of her childhood.  She had grown accustomed to living in Africa, that when she returned to the States, she had difficulty assimilating into the American culture.
While living in Africa as a child, Andrea Palpant Dilley was exposed to a great deal of suffering and death.  Those early experiences planted a seed which then germinated into doubt and her crisis of faith.
As we traverse this earth, sooner or later, we will face doubt.  We will wrestle, as Jacob did, with an invisible God, we can't see or touch. Doubt will inevitably be our companion or foe on this sojourn.
The following excerpt encompasses the beauty and brilliance of this thoughtful, philosophical and superbly written memoir:
To me, longing for God was like hearing music from an open window on the street or seeing mountains off in the distance. The yearning felt almost like grief.  A cry born into my heart before the human heart ever existed. A desire so deep and far back that it seemed almost prehistoric. I sensed the imago Dei, the image of God within me. I was Plato's child searching for the lost language of my origins. I was a homing bird traveling with my outspread wings, carried by the innate compass and crossing a thousand miles to get back to the place where I began. (Page 235)
I thoroughly enjoyed reading Faith and Other Flat Tires and highly recommend it to adults who are struggling with faith and doubt.
In conclusion, I want to thank Zondervan and Handlebar Marketing for sending me a complimentary copy of this book to read and review.
Author
Andrea Palpant Dilley grew up in Kenya as the daughter of Quaker missionaries and spent the rest of her childhood in the Pacific Northwest. She studied English literature and writing at Whitworth University. Her work as a writer has appeared in Rock and Sling, Geez, and Utne Reader, as well as the anthology Jesus Girls: True Tales of Growing Up Female and Evangelical. Her work as a documentary producer has aired nationally on American Public Television. She lives with her husband and daughter in Austin, Texas.