Tag Archives:
HandleBar Marketing
Paperback: 272 pages
Publisher: Thomas Nelson (July 11, 2017)
Purchase: $16.99
Purchase: Amazon | CBD | BN
Description
From her first breath of fresh air beyond the pit, it has never been enough for Beth Moore to be free.
This best-selling author and Bible teacher who has opened the riches of Scripture to millions longs for you to be free as well—to know the Love and Presence that are better than life and the power of God's Word that defies all darkness.
Beth's journey out of the pit has been heart-rending. But from this and the poetic expressions of Psalm 40 has come the reward: a new song for her soul, given by her Saviour and offered to you in Get Out of That Pit—friend to friend. This is Beth's most stirring message yet of the sheer hope, utter deliverance, and complete and glorious freedom of God:
I waited patiently for the Lord
He turned to me and heard my cry
He lifted me out of the slimy pit
He set my feet on a rock
He put a new song in my mouth
It is a story, a song—a salvation—that you can know too.
[New Cover for 10th Anniversary]
Review
Get Out Of That Pit is exactly what the title says. This book will help you get out of whatever pit you find yourself in. Beth Moore discusses four different ways we find ourselves in pits, and biblical ways to get out of them.
This is the second book I've read by Beth Moore. The first one was Breaking Free, which was also good.
Beth Moore has a no-nonsense approach and spunky writing style. It's as if she is sitting with you over a cup of coffee. She is a good bible teacher and story teller. She describes her own mistakes with humor, transparency and humility. She understands what it's like to be stuck in a pit or valley, which is why she is passionate about helping others.
If you are going through a difficult time and find yourself stuck, Get Out Of That Pit will inspire, encourage and help you.
Disclaimer: I received this book for free in exchange for an honest review.
Beth Moore has written many best-selling books and is a dynamic teacher and a prolific Bible-study author whose public speaking engagements take her across the United States to challenge tens of thousands. Beth is focused on teaching women all over the world and is known and respected wherever she goes. She is a dedicated wife and mother of two adult daughters and lives in Houston, Texas, where she leads Living Proof Ministries and teaches an adult Sunday school class at her church.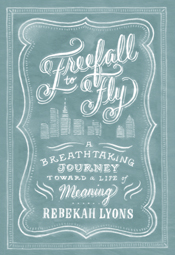 Hardcover: 200 pages
Publisher: Tyndale House Books (April 9, 2013)
Language: English
ISBN-10: 1414379366
ISBN-13: 978-1414379364
Price: $19.99
Purchase: Amazon | CBD | BN
Description
The Dark Night of the Soul in the City That Never Sleeps.
At first glance, Rebekah Lyons's life path seemed straightforward: walk the aisle, take the short road to motherhood, and build a family on a suburban cul-de-sac in the South.
But life looked radically different when her family relocated to the heart of New York City. She was forced to navigate a new normal with three kids, two toy poodles, and a minivan. Blindsided by crippling despair, Rebekah wrestled with bigger questions women often ask: Why am I here? Does my life matter?
In a Western culture driven by performance and Pinterest fantasies, her story echoes the rise of loneliness, depression, and anxiety that women are facing at all-time highs. Why are expectations and lifestyles breaking us down in unprecedented ways?
In this beautifully moving memoir of vulnerability, courage, and ultimately transformation, Rebekah shares her journey into the unknown—a thrilling, terrifying freefall that eventually led to flight. Searching for meaning, she stumbled on surrender, discovering that meaning follows surrender.
Rebekah found freedom when she faced her greatest fear, and she invites other women to do the same. For it is only when we freefall that we can truly fly.

Review
As much as I enjoyed Rebekah Lyons writing style, there were certain aspects of her memoir that I found hard to relate or identify with.
I am a working mom and she is a stay at home mom. She is afforded opportunities most working and stay at home moms do not. Which is why I believe her story specifically speaks to mothers or women who are from her same socioeconomic background.
I do understand and can relate to the author's feelings of angst and her struggles with anxiety and depression. Her struggle with wanting to find her specific calling besides that of being a wife and mother.
However, I have to be honest and say, most moms I know living in New York City do not have the time or luxury to go to someone's apartment in the morning for bible study, or go on retreats, or even have time to just walk through Central Park while it's snowing.
So if you are not of that lifestyle or demographic, it's kind of hard to relate to her story or put yourself in the author's shoes.
However, the author's story is hers and I respect her life and experiences. I believe Rebekah Lyon's memoir was candid, authentic and truthful. She didn't hide, she exposed a lot of herself and her experiences, which I appreciated. I also find her to be a talented writer, so on that front, I enjoyed reading her memoir.
If there was one word I could use to describe her book, it would be surrender.
Freefall to Fly was about Rebekah Lyons journey to find God and herself. In the midst of it, God delivered her from severe and debilitating anxiety attacks. I found this aspect of her story to be encouraging, but I do not believe this is common.
Most people do not get delivered from anxiety because they cry out to God in desperation. This was the authors experience, which I respect, however, there are many who have to be on medication and that is no indication God loves them any less because they weren't delivered.
In conclusion, I want to thank Handlebar Marketing and Tyndale Publishers for sending me a complimentary book to review.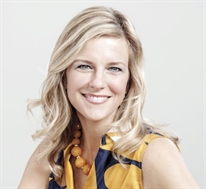 Rebekah Lyons is a mother of three, wife of one, and dog walker of two living in New York City. She's an old soul with a contemporary, honest voice who puts a new face on the struggles women face as they seek to live a life of meaning. As a self-confessed mess, Rebekah wears her heart on her sleeve, a benefit to friends and readers alike. She serves alongside her husband, Gabe, as cofounder of QIdeas, an organization that helps leaders winsomely engage culture.
Posted in

book reviews, christianity, faith, Healing, prayer
Also tagged Anxiety Attacks, Depression, Freefall to Fly, Memoir, Moms, New York City, Rebekah Lyons, Tyndale Publishers
Leave a comment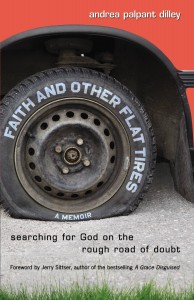 Faith and Other Flat Tires
by Andrea Palpant Dilley
Paperback: 304 pages
Publisher: Zondervan (February 6, 2012)
Language: English
ISBN-10:031032551X
ISBN-13: 978-0310325512
Price: $14.99
Purchase: Amazon | BN | CBD
Description
At age twenty-one, Andrea Palpant Dilley stripped the Christian fish decal off her car bumper in a symbolic act of departure from her religious childhood. At twenty-three, she left the church and went searching for refuge in the company of men who left her lonely and friends who pushed the boundaries of what she once held sacred.
In this deeply personal memoir, Andrea navigates the doubts that plague believers and skeptics alike: Why does a good God allow suffering? Why is God so silent, distant, and uninvolved? And why does the church seem so dysfunctional?
Yet amid her skepticism, she begins to ask new questions: Could doubting be a form of faith? Might our doubts be a longing for God that leads to a faith we can ultimately live with?
Review
Faith and Other Flat Tires is as unique as its title. The subheading reads, "searching for God on the rough road of doubt".
I have a penchant for memoirs, and this one was especially captivating.
Andrea Palpant Dilley was the daughter to Quaker missionaries who served in Kenya most of her childhood.  She had grown accustomed to living in Africa, that when she returned to the States, she had difficulty assimilating into the American culture.
While living in Africa as a child, Andrea Palpant Dilley was exposed to a great deal of suffering and death.  Those early experiences planted a seed which then germinated into doubt and her crisis of faith.
As we traverse this earth, sooner or later, we will face doubt.  We will wrestle, as Jacob did, with an invisible God, we can't see or touch. Doubt will inevitably be our companion or foe on this sojourn.
The following excerpt encompasses the beauty and brilliance of this thoughtful, philosophical and superbly written memoir:
To me, longing for God was like hearing music from an open window on the street or seeing mountains off in the distance. The yearning felt almost like grief.  A cry born into my heart before the human heart ever existed. A desire so deep and far back that it seemed almost prehistoric. I sensed the imago Dei, the image of God within me. I was Plato's child searching for the lost language of my origins. I was a homing bird traveling with my outspread wings, carried by the innate compass and crossing a thousand miles to get back to the place where I began. (Page 235)
I thoroughly enjoyed reading Faith and Other Flat Tires and highly recommend it to adults who are struggling with faith and doubt.
In conclusion, I want to thank Zondervan and Handlebar Marketing for sending me a complimentary copy of this book to read and review.
Author
Andrea Palpant Dilley grew up in Kenya as the daughter of Quaker missionaries and spent the rest of her childhood in the Pacific Northwest. She studied English literature and writing at Whitworth University. Her work as a writer has appeared in Rock and Sling, Geez, and Utne Reader, as well as the anthology Jesus Girls: True Tales of Growing Up Female and Evangelical. Her work as a documentary producer has aired nationally on American Public Television. She lives with her husband and daughter in Austin, Texas.