Tag Archives:
Greg Hogben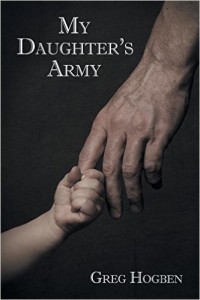 Paperback: 320 pages
Publisher: DSP Publications
ISBN-10: 1634761928
ISBN-13: 978-1634761925
Price: $17.99
Purchase: Amazon | BN | DSP
Description
Has a gay man been chosen to raise the Daughter of God? Or is Adam Goodwin's adopted daughter plagued by a benevolent delusion that threatens to undermine her global campaign for women's rights?
From the moment Adam Goodwin discovered baby Sera abandoned in Grand Central Station, they shared an unexplainable bond. Sera grows into a compassionate and charismatic young woman, despite Adam's worries that she may have difficulty distinguishing fantasy from reality. Does her hypersensitivity to the suffering of others show compassion―or troubling obsession?
Adam channels Sera's growing fixation on gender inequality into uniting her army of social media followers to battle the worldwide oppression of women. But the encouragement he hoped would alleviate the symptoms of a possible mental illness only appear to make matters worse. The stress and success of her crusade seem to have brought on a mental break when she confides that she believes she is the female Messiah, sent to redress the injustices women face.
With enemies of her cause multiplying, Adam must protect Sera from the threats they pose―and from the threat she may pose to herself.
Review
The story begins with Adam Goodwin grieving over the loss of his companion, Michael, and then finding an abandoned baby in Grand Central station.
The baby was handed over to the authorities. But Adam couldn't stop thinking about her, and wondered if she was ok. Being he's an attorney, he did a little investigating and found her. He winds up adopting her and names her, Sera. He raises her as a single parent with the assistance of his brother Aaron, and three women who live in his building.
Based on peculiar and unusual occurrences surrounding Sera, Adam became concerned she may be delusional, especially when she continues to speak of her friend, Sophia, whom he deems as fictitious or imaginary.
After she graduates high school, she decides to take a trip around the world with her three friends. When she returns however, she doesn't look herself. She had lost a lot of weight, and appeared frail, drained and exhausted. It all makes sense once she begins telling her father and uncle the types of things she and her friends experienced.
After witnessing all that she had, she felt compelled to do something about it. She wanted to return, but her father suggested she start a blog instead. Her uncle Aaron helped set up the blog, and then she began writing the dramatic stories of the women she met. Little did any of them know, it would start a movement and result in thousands of young women following her on social media.
However, things took a dramatic turn once she confessed she was the Daughter of God.
Greg Hogben is a brilliant writer and story teller. My Daughter's Army didn't read like fiction for me. It carries a profound message and touches on serious issues. It opened my eyes to the tragic realities occurring worldwide.
I highly recommend My Daughter's Army and believe it's an important book that should be read by everyone.
Greg Hogben is a British author based in Washington DC. Greg is a human rights advocate with a particular focus on raising awareness of worldwide women's rights and LGBT equality. Follow him on Twitter and his blog with The Huffington Post.