Tag Archives:
Laws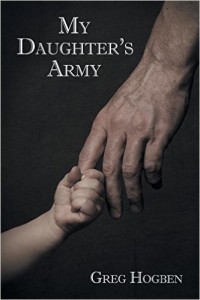 I had the fortune of connecting with this brilliant author on Twitter several months ago. I am so glad, because I enjoyed reading and reviewing his thought provoking book, My Daughter's Army. It is one of those books that when you finish, you won't see things the same way. I learned a great deal from reading his book. It is a privilege to introduce to you, Greg Hogben.
1) Where did you grow up?
I grew up on the South Coast of England in a county called Sussex south of London.
2) What was your childhood like?
It was a typical British childhood for that area of the country. We had the South Downs to explore and the seaside town where I grew up was always busy in the summer. It wasn't until I traveled that I appreciated how much we had just by growing up where I did.
3) What was the first book you ever read?
Hmmm, that's a tough one. The story I most clearly remember reading from beginning to end is Charlotte's Web.
4) When did you discover you were a writer?
To be honest, I have only recently come to consider myself a writer. Even though I've been fortunate enough to have two books published, the title 'writer' still sounds odd to me. I still get a kick out of being described as an author.
5) Who are some of your favorite authors?
I loved the Harry Potter books, but The Casual Vacancy is perhaps my favorite JK Rowling book. She nailed the class system in Britain exactly right, to the point I could change any given character's name with someone I know and her description would be perfect.
6) What are some of your favorite books?
I recently enjoyed the the Monstrumologist trilogy by Rick Yancey. I'm also a huge fan of Stephen Fry and anything he writes. His humour, honesty, and his wit never ceases to impress me.
7) What specific things did you do to perfect your writing?
I don't think I did any one particular thing. Like most people I tend to write, re-write, edit, and edit again until it feels like it fits. The problem with writing a book is that you become so involved in it that sometimes you become blind to what someone who is reading the story for the first time will catch instantly, such as holes in the plot, going off on a tangent, or repetitive language. I relied heavily on friends and family to give me the harsh truth. I felt some personal pressure with this book. The hardest part of writing My Daughter's Army was to try and do justice to the real-world stories of the adversity women face.
8) When did you begin blogging for the Huffington Post?
About three years ago. I wish I could write more, but the past two years have been taken up with research for the book.
9) How did you get involved in LGBT, human and women's rights issues?
I have always been involved with LGBT rights. As a gay man, I have lived under the laws enforced by the government (both in the UK and the USA) and have been affected first-hand by the results of inequality. Many of the anti-gay groups protested that Marriage Equality was redefining traditional marriage or that their religious freedom was somehow put at risk . What many opponents failed to talk about was how the inequality affected gay people's pensions, healthcare insurance, immigration status, taxes, adoption/parenting rights, etc. And still, in 2016, there is a ridiculous number of states in America where business owners STILL legally can fire someone for being gay. It was this kind of injustice that led me to see the world differently. You begin to notice how people are treated, how their 'worth' is quantified. The more you look for it, the more immediately apparent it becomes. That's what led me to investigate women's rights issues.
10) Was there a particular incident that provoked you in becoming an advocate?
About 9 nears ago I read a story of a lesbian couple who were on the first day of their cruise out of Miami. One had been playing with their kids on board before they departed when she suffered an aneurysm and was rushed to hospital. Because their relationship was not recognized by law the hospital forced her partner of 18 years to remain in the waiting room and wouldn't allow any input with regard to her healthcare.  Though her entire immediate family were just feet away, she died alone because of the hospital's bureaucracy and the law in Florida. I remember how angry and frustrated I was that this couple's last moments together were stolen from them.
11) What has your experience been thus far as an advocate?
It has been very rewarding. On the side of LGBT rights, it has been amazing to see how much things have changed in just the past three years. The changing laws bring hope that full equality is on the horizon. On the side of women's rights, it is more frustrating. There is still an alarming number of women around the world who are oppressed or are living in modern slavery. The problem is so huge, yet so many people don't seem to know about it. The statistics on human trafficking, honor killings, acid attacks, and rape are overwhelming. But with more awareness and pressure, especially from the West, hopefully things will begin to change for the better. Women in Saudi Arabia were able to vote (and run for office) for the first time this year. Seventeen women were elected to public office. It's this kind of change, even if it's just the first step, that is needed in every region of the world.
12) Did you always want to be an advocate for a cause?
I have learned that raising awareness is the first step to change. That's what I want my role to be through my book and through social media. There are thousands who maybe don't see themselves as active advocates, but the truth is raising awareness is a form of advocacy. The support of an issue, and a voice added to the crowd will and does make a difference. I became an advocate for women's rights because I discovered and investigated the issues.
13) What are some of the principle things you've learned in doing this work?
The world can be a terrible place, and the horrific examples of what man is capable of are far too numerous. It's enough for anyone to despair and shutdown. But at the same time, you can see people desperately trying to make a change and it restores your faith in humanity — whether it's volunteers who give their time, professionals who donate their skills, or people who give whatever they can afford to help someone they don't know.
14) What inspired you to write your second book, My Daughter's Army?
The inspiration came from the desperation of LGBT kids committing suicide because their families, church, and even local politicians were telling them 'God hates gays'. Many were (and, sadly, still are) being thrown out by their parents and in the past many of those kids were turned away from homeless shelters if they confessed they were gay. I am not a religious man, so I can only imagine how that must affect anyone's faith. So I wanted to write an alternative to everything they'd heard all those years. What if God didn't hate gay people? What if he trusted a gay man to raise his daughter? That was the original concept. It was through researching what issues I thought a modern day female messiah would preach that the book became about more than challenging the concept of a few out-of-context verses from the Bible, and more about the power people have when they don't rely just on prayer.
15) Did you experience the things you wrote about?
I have experienced my fair share of homophobia. Living in central Washington DC during the years that led up to marriage equality there weren't many weekends that you didn't see some kind of demonstration or protest on the National Mall. It's impossible not to take it personally when people are holding a picture of two nooses with the caption 'the solution to gay marriage'.  In my twenties I was lucky enough to travel a great deal of the world from Europe, to the Middle East, Asia and Australia. I have seen firsthand how women are oppressed around the world. Being young, I acknowledged it, but didn't grasp it the way I do now. With the advent of social media you can read people's voices and get a better sense of what that kind of oppression means and leads to.
16) What do you believe is needed to see change?
Awareness. That is first and foremost.
17) Lastly, what advice would you give to anyone starting out as a writer?
If you are passionate about writing, don't give up. If you have a story you feel needs to be told, tell it. Writing the first draft of a novel is an incredible achievement in itself, something millions fail at.  Celebrate it! There are a thousand websites telling you how to write, what to write, that it's hard to write good characters, and nearly impossible to get published. Stay away from them. And finally, many of the best novels come from indie publishers. Not only are they passionate about books, they are incredibly supportive, which is priceless.
Greg Hogben is a British author based in Washington DC. Greg is a human rights advocate with a particular focus on raising awareness of worldwide women's rights and LGBT equality. Follow him on Twitter and his blog with The Huffington Post.
Posted in
Author Interviews
|
Also tagged advocacy, Church, government, Greg Hogben, homophobia, LGBT rights, Marriage Equality, My Daughter's Army, UK, USA, Women's Rights
Leave a comment
Little did I know, writing a novel would have such an impact on me.
It all began with an idea. An idea which lead me to research on mass incarceration and correspond with prison inmates.
Never realizing, it would lead me to want to become an activist and lobby for change in our prison system.
In my research and corresponding with inmates, I have come to learn about the gross injustice that exists in their world.
Some would say, if not most, "You do the crime, you do the time." This is true, however, God doesn't punish us to the degree that humans do.
Yes, I am aware there are consequences to our choices. However, I also know throwing people in prison to rot and die isn't exactly helping them or solving the issue at hand.
Currently, funding has been cut to such a degree that there is a scarcity of rehabilitation programs being offered within our prison system. As a matter of fact, most will say, people coming out of prison are far worse than when they went in. Obviously, something is wrong with this picture.
Not only that, our government is making an exorbitant amount of money off of those who they incarcerate.
There is a large number of mentally ill people in prison, who are also in solitary confinement and not receiving the help or proper medication they require to get better.
As it stands, the prison system is broken and needs to be fixed.
The only way this is going to happen is if we advocate for it. It is not going to magically change on its own.
I don't believe you have to have a family member who is or was in prison to care or have compassion. Personally, I have not experienced a parent, family member or friend who is or was incarcerated when I was growing up. I have never stepped foot inside a prison my entire life, yet I do care, have compassion and want to make a difference.
I feel compelled to try and do something. I just can't stand by and watch, knowing all that I know and not do anything about it. I have a responsibility to get the word out, and to be about the change, not just talk or write about it.
Which is why I will be joining hundreds of people on May 5th to lobby against solitary confinement in Albany. I want to be a voice for the voiceless and advocate for change in our laws to help stop the torture of solitary confinement.
Solitary confinement is torture. Trust me, prison is bad enough than to add the isolation and poor conditions of solitary confinement on a human being. We treat our animals better in this country than we do humans. This is a sad testament to the state of affairs and it needs to change.
If you are interested in joining us on May 5th, please click here for the details and sign up.
Has writing brought awareness on a particular cause in your life? If so, please share in the comment section below.
Posted in

blogging, christianity, Missions, writing
|
Also tagged Awareness, Change, Lobby Day, Lobbying, Mass Incarceration, May 5, Mentally Ill, Prison Reform, Stop Solitary Confinement, Torture
Leave a comment
Free Updates

Sign up for updates and get the latest book reviews, articles, and news from OrdinaryServant.com. Just enter your email address below:

Follow

Recent Posts

Recent Comments

My Guest Posts

My Publishers

Categories

Archives

Previous Archives

Review Policy

Categories

Categories