Tag Archives:
Kingdom Journeys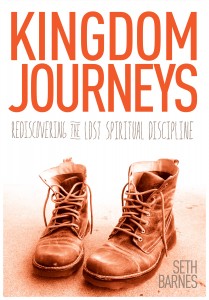 Paperback: 250 pages
Publisher: Ashland Press
Language: English
ISBN-10: 0985833408
ISBN-13: 978-0985833404
Price: $12.99
Purchase: Amazon
Description
Do you feel like you've been missing out on the abundant life? Most people do. If you take a look at the life of Jesus, you see that he called his disciples to follow him – on a physical journey, not just a spiritual one. Hundreds of books talk about our faith walk as a journey. But few delve into the subject of how a physical journey can reinvent and revitalize our spiritual journey with God. Kingdom Journeys is about the journeys we all take, presented in a series of "initiation steps" by disciples who are taking serious the call to leave everything and simply "go." This book is an exploration of an ancient spiritual discipline we must recover – if we're going to truly follow Jesus.
Review
I have never been so challenged, provoked and convicted by a book in a long time. I read this book, bit by bit, and thought about it each step of the way.
After having a very intense dream this morning (which is the norm for me), I immediately went to my journal and wrote my dream out. The dream was palatable and I didn't want to lose the amazing feeling of touching the divine I felt was stirred by reading this book. I felt as if my heart would explode.
Reading Kingdom Journeys sparked the desire for more than a mundane existence. I want to live fully alive and experience what Seth Barnes so eloquently describes on each page; a true faith walk, not religion.I truly believe Kingdom Journeysis a must read for every Christian walking the face of this earth.
Seth Barnes speaks from the heart and tells it like it is. He doesn't present a "pie in the sky" Christianity. There is no sugar coating or pretense in this book.Kingdom Journeys will shatter religion to the core.
Seth Barnes shares his journey as well as the journeys of others who are stepping out and living by faith.
I promise you, you won't be the same after reading this book. You won't be able to remain complacent, comfortable or content in your Christian walk.
Reading Kingdom Journeys changed me. I am now left with an insatiable hunger to experience more of God.
Kingdom Journeys I highly recommend this book. If you purchase the paperback of Kingdom Journeys now, there is a special offer until October 13th. Please take advantage of this promotion, because you won't want to miss it.
Please visit  http://kingdomjourneysbook.com/ for more details and tell your friends about it too!
Seth Barnes is a work in process.
The son of a physician and prayer warrior, he embarked on his first mission trip in high school. During that two- month adventure in Guatemala, Seth was exposed to poverty he never knew existed. It changed him.
Before graduating from Wheaton College, Seth joined a mission to Peru and later worked in a Thai refugee camp for Cambodians fleeing the Khmer Rouge.
Soon after graduation, he married Karen, and they left the United States to serve as missionaries in Indonesia and the Dominican Republic. A few years later, he earned his MBA at the Darden School of Business, University of Virginia.
In 1989, Seth began Adventures in Missions in his garage. From that modest beginning, Adventures has equipped and sent over 100,000 missionaries to connect the body of Christ to the needs of a weary world.
Through the process, Seth grew to understand the importance of a relationship — and conversation — with God, which has guided his entire ministry and life.
Seth and his wife, Karen, have raised five children in Gainesville, Georgia. You can find him online at sethbarnes.com.
No, no, I haven't thrown in the towel. I'm still a Christ follower. Jesus has nothing to do with this. He is in a class by Himself, for the obvious reasons. Jesus is Jesus. He died for me, you and the whole world. Someone who would be willing to die for the likes of me, well, let's just say, they score big time.
I have no problem with beautiful, amazing, lovely, sweet, gentle Jesus Christ. He is a rock star. I love Him, plain and simple.
What I do have a problem with is religion. The Pharisees. The arrogant, stuffy, stuck up, know-it-all, condescending, judgmental, legalistic Christians. You know the ones who have an answer to every problem, and spout a bunch of scripture at you in one breath with saliva and all… yeah, those kinds of Christians.
I don't have anything against Scripture. I love the Word of God, even when it cuts deep. Like I said, my issue is with those who call themselves Christians, but will be the first to criticize, judge and gossip about you.
Oh religion, how I hate thee… Where is the love?
I have to say, I don't love others nearly the way Christ wants me to. I realize I don't have it in me. If Jesus doesn't love through me, it ain't gonna happen.
Hollywood portrays their version of love, but that's not what biblical love is about. Love isn't about feelings or moods… it isn't about goose bumps and racing hearts.
Mature love is grounded, steady, selfless and resilient. Real love stands the test of time. [Tweet this]
Religious people don't know how to love others. All they know is how to preach scriptures, which doesn't even penetrate… because half the time, they have trouble believing in it themselves.
When the Word really buries deep in your heart, it will manifest in your life. Love will be evidenced by how you live, act, speak and treat others.
Unfortunately, there are tons of people in the pulpit who don't know how to genuinely express love toward others. They preach something they themselves don't live or practice from a real and authentic place. There is a total disconnect.
To me, this equals bondage and death. There is no life, only rote and ritual. Where is the passion?
I look to my left and to my right, and I don't see it evidenced anywhere. I just see a bunch of people filling up the pulpits and pews every Sunday. When they leave, you wouldn't even know they went to church. And if you watch closely, there is no evidence of Jesus in their life, just a bunch of empty words.
A sad state of affairs indeed, which is why we need revival.
So what's the answer? Surrender. How do we surrender? We pray and sincerely ask God to change our hearts to reflect His. We do not have the power to change ourselves. But God can and wants to. He is waiting on us to give up our "act" and come humbly to His throne.
God wants us to be real and authentic, not a bunch of actors memorizing lines on His stage called Life. [Tweet this]
I'm reading a very provoking and convicting book right now called Kingdom Journeys by Seth Barnes. This book is helping me understand why religion doesn't work. It's a dead end. God has so much more in store for us if we really take Him at His word.
I woke up this morning with this song on my mind, "Love is a Movement" by Switchfoot. The lyrics really speak to me.
Have you been struggling with religion? What are your thoughts on this? Please share in the comment section below.