Tag Archives:
K'wan
I'm excited to interview the multi-talented Silk White. He is an author, actor, and film director extraordinaire. We connected on Facebook, and then I started watching his web series called "The Hand That I Was Dealt" and got hooked. I fell in love with his writing and characters. He plays a smooth operating drug dealer named Zoe, who cheats on his wife. Author Silk White is one cool, laid back, and talented dude.
1) What was it like growing up in Harlem?
Growing up in Harlem was fun, it made me have to grow up fast, but that's where I learned how to be a man.
2) Were you creative as a child?
I wasn't too creative as a child. I just enjoyed the regular things that kids enjoy. I was a good kid.
3) What made you start writing?
I started writing because I was doing a lot of reading and found an interest in it. I thought I could be great at it and found a love in it. I love to create a good story that everyone loves.
4) Do you have a favorite author and book?
Yes, my favorite author is K'wan and my favorite book by him is called Street Dreams, that's the book that got me wanting to start writing from the beginning.
5) When did you start getting interested in film and acting?
I started getting interested in film and acting when I saw how people loved the characters in my book and I wanted to see if I could bring those characters to life on the screen. I love a challenge.
6) Do you like to act more than write?
Acting and writing are two things that I love to do. I am currently working on my acting and trying to improve
7) Which book did you enjoy writing the most?
I enjoyed writing my new book Business Is Business the most, that story just somehow came to life in my head.
8) What is your philosophy on life?
My philosophy on life is to just make the best of it and continue to try and get better and better each and every day.
9) How do you overcome obstacles?
I overcome obstacles by dealing with them. There will be obstacles in everything you do, there is no getting around it.
10) What means the most to you?
Just being creative and putting out good material means the most to me.
11) Who has been your greatest influence in life?
I think I would have to say that I have been the greatest influence on my life. I've been through a lot and have seen a lot, but still stay motivated to be great.
12) How do the ideas come for your books and film?
Lol! I don't know, the ideas just come to me, it's hard to explain. It's kind of weird.
13) When did you decide to start Good2Go?
I decided to start Good2Go in 2007. I only started the company at first because nobody else would sign me lol, well I guess I showed them.
14) Do you enjoy the business end of publishing?
Yes, I do enjoy the business end of publishing. I've definitely learned a lot, but now nothing surprises me in this business anymore.
15) You have done a couple of films, "No Way Out" and "Black Barbie". You also have an excellent web series out called "The Hand I Was Dealt". Where did the inspiration for them come about?
The inspiration for the movies and books come from just wanting to give the viewers a great story. And with each project, I continue to get better and better.
16) How do you balance writing, publishing, filmmaking and acting?
Lol, it gets pretty difficult when it comes to balancing all these different things, but I just do my best to make time for those things. When it's all said and done, I want to be great. So in order to be great, I have to put in the work.
17) Where do you see yourself in ten years? What other goals do you want to achieve?
In ten years, I see myself owning several other businesses…having a show on cable television, having one of my books turned into a motion picture, and living in Los Angeles somewhere.
18) What other projects are you currently working on?
I'm currently writing "The Hand I Was Dealt" Season 2. I'm also working on a few other things that I'm not allowed to discuss right now, but just know I'm definitely working.
19) What helped you hone your skills as a writer, actor, etc…
Me just wanting to be good at those things helped me hone my skills, and I did a lot of studying. As far as acting goes, I continue to work on the craft until it's mastered.
20) Lastly, what advice would you give a novice writer or filmmaker? What are the things you have learned that you can pass on to someone coming up?
What I can pass on to someone on the come up is don't let anyone tell you what you can't do. Be ready to work hard for what you want and never give up. Also, don't just jump into something, do your homework and research first.
Thank you so much, Author Silk White.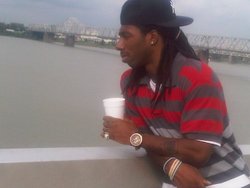 A native of Harlem, New York, Silk White began his writing career in 2006.
He is a best selling author of Urban Fiction Novels & Co-Owner of good2go publishing/good2go films. Silk also produces movies and has "No Way Out" and "Black Barbie" as film credits to his name.
In his spare time, Silk loves to write and act. He is currently producing a new movie and is hard at work on his next novel. You can find him on Facebook, Twitter, and Instagram.
Free Updates

Sign up for updates and get the latest book reviews, articles, and news from OrdinaryServant.com. Just enter your email address below:

Follow

Recent Posts

Recent Comments

My Guest Posts

My Publishers

Categories

Archives

Previous Archives

Review Policy

Categories

Categories