Tag Archives:
Ron DeArmond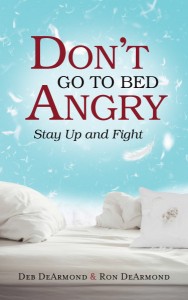 Paperback: 208 pages
Publisher: Abingdon Press
Price: $14.99
Purchase: Amazon | CBD | BN
Description
We've all been there. He doesn't understand what she's really upset about. He thinks she blows things out of proportion. Neither of you can agree on the right course of action. In every marriage, there is conflict. And with every conflict, there is a choice for resolution. Will you ignore the issue until it seemingly goes away? Or will you work together to find peace?
In Don't Go to Bed Angry, Deb and Ron DeArmond give you permission to fight. Marriage is worth fighting for. Conflict isn't the problem, after all; the real issue is how we deal with the conflict. Combining a healthy dose of personal experience with relationship-affirming biblical wisdom, Deb and Ron demonstrate how communication through conflict can lead to greater insight and understanding of thoughts, feelings, and perspectives that can safeguard–and even strengthen–your relationship. Immensely practical features including worksheets, discussion questions, callouts, and prayers make this a definitive go-to resource to help you start fighting–together–for your marriage.
Review
Wow! I have read books on marriage, and I have to say, this book takes the cake. There is so much to like about it. Seriously. You would think for a short book, it wouldn't contain so much relevant information, but it does and then some.
The main premise of this book is how to communicate in a marriage and tools on how to resolve conflict effectively. I honestly wish this book existed before I married my husband thirteen years ago. I pretty much did everything this book advises against.
I have gotten into conversations with friends about how there isn't a guidebook on what to do when you get married. Here you have two people coming together, from different worlds, upbringings, and communication styles. You know the saying, the "honeymoon is over?" Well, when you start living with your spouse, stuff starts coming up and if you don't know how to fight fairly, or resolve conflict, you are going to find yourself in a very precarious situation. Don't God To Bed Angry can help as it is a guidebook on how to do marriage successfully.
So, for any of you who are thinking of getting married or are married, I highly, and I mean HIGHLY, recommend this book. It doesn't matter how many years you have been married, or how many problems you have had, or even if you are at the brink of divorce, you need to get this book. The information contained in this book alone, if practiced and applied, can revolutionize and save your marriage. Guaranteed.
This is by far one of the best marriage books I have read in years. I give five stars, but if I could give it more, I would. I will be referring to this book and recommending it to everyone.
In conclusion, I want to thank authors, Deb and Ron DeArmond for sharing their lives by helping me and other married couples. I also want to thank Abingdon Press for publishing this gem of a book, and last but not least, my Litfuse Publicity Group family for sending me a complimentary copy of this book to review. Thank you, it truly blessed my life.
Deb DeArmond is an author, speaker, and coach with a focus on communication, relationships, and conflict resolution. Her writing explores marriage, parenting, in-law and extended family relationships. She is the author of "Related By Chance, Family By Choice" and "I Choose You Today: 31 Choices to Make Love Last." Deb is the founder of Living-Write, where she coaches aspiring authors. She's monthly columnist and feature writer for Lifeway's "Mature Living" Magazine, and has published more than 120 articles online and in print publications. Ron DeArmond has a hungry heart for the Word, and has studied the Bible for 45+ years. Ron's call to serve men is evident in his previous ministry positions with Christian Men's Network under Dr. Edwin Lewis Cole and Faithful Men Ministry. Ron is currently the Associate Pastor of men's ministry at Catch the Fire/ DFW and has ministered around the world. The DeArmonds live in the Dallas/Fort Worth area.