Hardcover: 368 pages
Publisher: Zondervan
Language: English
ISBN-10: 031032906X
ISBN-13: 978-0310329060
Price: $26.99
Purchase: Amazon | CBD | BN
Description
Ten years ago, Rick Warren wrote The Purpose Driven Life, which became the bestselling hardback non-fiction book in history, and is the second most-translated book in the world, after the Bible. PDL has inspired and changed tens of millions of lives … more than any modern book. NOW, Rick has updated and expanded the book with new chapters on the greatest barriers to living your purpose, plus 42 video introductions to each chapter theme, and 42 additional audio messages that go deeper into each chapter. He has also created a new small group curriculum and new sermon series for pastors, and new follow-up events to conserve the evangelistic and discipleship results you will experience. In the original 40 Days of Purpose campaign, churches averaged 28% growth in attendance, and over 100% growth in small group Bible study! People WANT to know their purpose in life! The Purpose Driven Life will enable a new generation in your church to discover God's purposes for their lives and empower your church with a fresh new wind of hope, joy, and vitality!
Review
Wow! I can't believe it's been ten years already. I first heard about The Purpose Driven Life in March 2005. It was when this woman was held hostage. Her name then was Ashley Smith. She's married now and goes by Ashley Smith Robinson.
Her story is amazing because as a result of reading excerpts of The Purpose Driven Life to her captor, he let her go and turned himself in.
When I read this story in the news, I went out and bought the book right away. I was fascinated to know what The Purpose Driven Life was all about.
I read it back then and started telling everyone in my circle about it. I even bought copies and gave them out to people.
I love everything Pastor Rick Warren preaches and writes about. He has a brilliant way of breaking things down and making difficult concepts easy to understand. He keeps your interest and he is never boring.
The anniversary edition of The Purpose Driven Life is even better. There are two new chapters added: "The Envy Trap – I must be like you to be happy" and "The People-Pleaser Trap – I must be liked by you to be happy".
Also, what I totally think is fabulous, is there are QR codes and web links incorporated providing a video intro and 30-minute audio message by Pastor Rick Warren for each chapter.
If you are not familiar with Pastor Rick Warren, The Purpose Driven Life is a great introduction. This is one of my favorite books ever. I highly recommend it to everyone.
In conclusion, I want to thank both Zondervan and Thomas Nelson for sending me a complimentary copy of this book to review.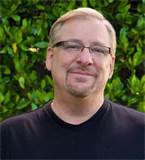 As founding pastor of Saddleback Church, Dr. Rick Warren leads a 30,000 member congregation in California with campuses in major cities around the world. As a theologian, he has lectured at Oxford, Cambridge, Harvard, University of Judaism, and dozens of universities and seminaries. As a global strategist he advises world leaders and has spoken to the United Nations, US Congress, Davos Economic Forum, TED, Aspen Institute, and numerous parliaments. Rick has also founded the global P.E.A.C.E. plan, which Plants churches of reconciliation, Equips leaders, Assists the poor, Cares for the sick, and Educates the next generation in 196 countries. www.purposedriven.com