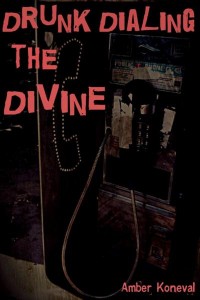 Publisher: eLectio Publishing (November 11, 2012)
Sold by: Amazon Digital Services, Inc.
Language: English
ASIN: B00A6FCLZG
Price: $2.49
Purchase: Amazon
Description
How would you respond when a friend drunk-dials you to make a prayer request? What do you say when you are furious with God, but aren't willing to part with Him? How do you vent your frustrations to your Creator? When is it okay to be angry with God?
Drunk Dialing the Divine is an attempt to capture a glimmer of the darker side of the emotional struggle of the deeply faithful. Though each poem begins in a negative space, they resist both the angry and the naively optimistic ending–instead finding a ray of hope in the maxim "Things are because God is."
Review
I don't usually read or review poetry. But I couldn't resist reading and reviewing these poems written by the young and talented Amber Koneval.
I admit, I was pleasantly surprised. I totally resonated and identified with her poems. What a gem to come across such a gifted poet.
I found her poetry to be raw, truthful and relevant. She crafts her words with such depth, precision and artistry.
I related to her poems as I have struggled in my faith with God. So I appreciated the authenticity and power of her poetry.
If you love poems or even if you don't, you are in for a treat reading Drunk Dialing The Divine.
In conclusion, I want to thank eLectio Publishing for sending me a complimentary copy of this ebook to review.
Amber Koneval is a college student in Denver, Colorado, double-majoring in English and Religious Studies. She is slated to graduate in December of 2013. Her poetry has appeared in such print journals as Time of Singing, The Wayfarer, The Storyteller, Bop Dead City and devozine (forthcoming). Her work has also appeared online formats at Crack the Spine and Exterminating Angel.
Her first collection of poetry 'Drunk Dialing the Divine' is now available from eLectio publishing.
Follow her at:
facebook.com/akoneval
amberkoneval.wordpress.com
amberkoneval.wix.com/theamberofthemoment