Tag Archives:
Mass Incarceration
Newlyweds Celestial and Roy are the embodiment of both the American Dream and the New South. He is a young executive, and she is an artist on the brink of an exciting career. But as they settle into the routine of their life together, they are ripped apart by circumstances neither could have imagined. Roy is arrested and sentenced to twelve years for a crime Celestial knows he didn't commit. Though fiercely independent, Celestial finds herself bereft and unmoored, taking comfort in Andre, her childhood friend, and best man at their wedding. As Roy's time in prison passes, she is unable to hold on to the love that has been her center. After five years, Roy's conviction is suddenly overturned, and he returns to Atlanta ready to resume their life together.This stirring love story is a profoundly insightful look into the hearts and minds of three people who are at once bound and separated by forces beyond their control. An American Marriage is a masterpiece of storytelling, an intimate look deep into the souls of people who must reckon with the past while moving forward—with hope and pain—into the future.
Review
An American Marriage is a beautifully written story which I personally did not like. I know there has been a lot a buzz surrounding this book since Oprah choose it for her book club. However, I had a difficult time identifying and connecting with the characters in general.
There was one element besides the writing that I liked, and that was the premise or main theme of the story. It involved the main protagonist, Roy Jr. and his wrongful conviction of a crime he didn't do.
Many a black man's plight in America, being wrongfully convicted based on either the color of their skin and being at the wrong place at the wrong time. Ms. Jones does a great job highlighting this in An American Marriage.
To hear more of my thoughts on this book, please click here.
Tayari Jones is the author of the novels Leaving Atlanta, The Untelling, Silver Sparrow, and An American Marriage (Algonquin Books, February 2018). Her writing has appeared in Tin House, The Believer, The New York Times, and Callaloo. A member of the Fellowship of Southern Writers, she has also been a recipient of the Hurston/Wright Legacy Award, Lifetime Achievement Award in Fine Arts from the Congressional Black Caucus Foundation, United States Artist Fellowship, NEA Fellowship and Radcliffe Institute Bunting Fellowship. Silver Sparrow was named a #1 Indie Next Pick by booksellers in 2011, and the NEA added it to its Big Read Library of classics in 2016. Jones is a graduate of Spelman College, University of Iowa, and Arizona State University. An Associate Professor in the MFA program at Rutgers-Newark University, she is spending the 2017-18 academic year as the Shearing Fellow for Distinguished Writers at the Beverly Rogers, Carol C. Harter Black Mountain Institute at the University of Nevada, Las Vegas.
Posted in

book reviews, novels
|
Also tagged Algonquin, American Blacks, An American Marriage, Atlanta, infidelity, Marriage, Prison, South, Tayari Jones, Wrongful Convictions
Leave a comment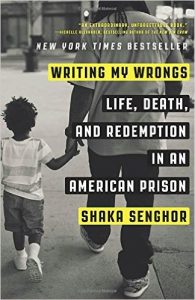 Paperback: 288 pages
Publisher: Convergent Books
Price: $14.00
Purchase: Amazon | BN
Description
Shaka Senghor was raised in a middle class neighborhood on Detroit's east side during the height of the 1980s crack epidemic. An honor roll student and a natural leader, he dreamed of becoming a doctor—but at age 11, his parents' marriage began to unravel, and the beatings from his mother worsened, sending him on a downward spiral that saw him run away from home, turn to drug dealing to survive, and end up in prison for murder at the age of 19, fuming with anger and despair.
Writing My Wrongs is the story of what came next. During his nineteen-year incarceration, seven of which were spent in solitary confinement, Senghor discovered literature, meditation, self-examination, and the kindness of others—tools he used to confront the demons of his past, forgive the people who hurt him, and begin atoning for the wrongs he had committed. Upon his release at age thirty-eight, Senghor became an activist and mentor to young men and women facing circumstances like his. His work in the community and the courage to share his story led him to fellowships at the MIT Media Lab and the Kellogg Foundation and invitations to speak at events like TED and the Aspen Ideas Festival.
In equal turns, Writing My Wrongs is a page-turning portrait of life in the shadow of poverty, violence, and fear; an unforgettable story of redemption, reminding us that our worst deeds don't define us; and a compelling witness to our country's need for rethinking its approach to crime, prison, and the men and women sent there.
~  ~  ~  ~  ~
Vlog Review: https://youtu.be/ER3t-xnHgE4
~  ~  ~  ~  ~
Review
Writing My Wrongs is about the power of hope, change, and redemption. It sheds light on the reality and truth of mass incarceration.
I have read many books about prison, but never as poignant, gritty, and honest as this one. This memoir provoked me in ways I had not expected.
Shaka Senghor is an inspiration and a great writer. He was born with a gift which he was able to develop during his time in solitary confinement. It was through reading and writing that he was able to heal and find himself.
His story taught me that people deserve a second chance, and should not be limited or defined by their past.
Writing My Wrongs is an important and powerful book, which touched, inspired and encouraged me. I hope it gets into the hands of the youth in public schools, detention centers, and prisons across America. I highly recommend it.
In conclusion, I want to thank Convergent for sending me this complimentary book in exchange for an honest review.
Locked up for nearly nineteen years, Shaka Senghor has used his incarceration as a vehicle for change. Through years of study and self-reflection, he has transformed himself from an uncaring "thug" into a principled, progressive man who refuses to allow his circumstances to define who he is or what he's capable of.
Once a very angry, bitter young man, it was books that saved him from self-destructing and allowed him to see beyond the barbed-wire fences that held him captive. In an environment where hopelessness and despair grow like weeds, writing became his refuge. Eventually, he began writing creatively, tapping into the growing interest in street/hip hop literature. The author of six books and countless articles and short stories, he is inspired by revolutionary prison writers like George Jackson, Malcolm X and Donald Goines.
Whether writing street lit or poetry, Shaka speaks the truth about the oppressive conditions of the 'hood and the not-so-glamorous side of the streets. He writes in a way that compels his readers to see the hope and humanity of a discarded generation shaped by the crack epidemic, the fall of the auto industry and the rise of the prison industrial complex. He is soon to be released and is eager to begin working with youth through gun and violence prevention programs in his hometown of Detroit.
Posted in

book reviews, writing
|
Also tagged Abuse, African American, Black, Books, broken homes, Change, Convergent, Correctional Facilities, Crack, crime, Detention Centers, Detroit, Drugs, Epidemic, freedom, Guns, healing, Hood, Killing, Memoir, murder, Neglect, Oprah, Penguin Random House, Poverty, Prison, Racism, Reading, Redemption, Restoration, Shaka Senghor, Social Injustice, TedTalks, Writing My Wrongs, youth
1 Comment
Little did I know, writing a novel would have such an impact on me.
It all began with an idea. An idea which lead me to research on mass incarceration and correspond with prison inmates.
Never realizing, it would lead me to want to become an activist and lobby for change in our prison system.
In my research and corresponding with inmates, I have come to learn about the gross injustice that exists in their world.
Some would say, if not most, "You do the crime, you do the time." This is true, however, God doesn't punish us to the degree that humans do.
Yes, I am aware there are consequences to our choices. However, I also know throwing people in prison to rot and die isn't exactly helping them or solving the issue at hand.
Currently, funding has been cut to such a degree that there is a scarcity of rehabilitation programs being offered within our prison system. As a matter of fact, most will say, people coming out of prison are far worse than when they went in. Obviously, something is wrong with this picture.
Not only that, our government is making an exorbitant amount of money off of those who they incarcerate.
There is a large number of mentally ill people in prison, who are also in solitary confinement and not receiving the help or proper medication they require to get better.
As it stands, the prison system is broken and needs to be fixed.
The only way this is going to happen is if we advocate for it. It is not going to magically change on its own.
I don't believe you have to have a family member who is or was in prison to care or have compassion. Personally, I have not experienced a parent, family member or friend who is or was incarcerated when I was growing up. I have never stepped foot inside a prison my entire life, yet I do care, have compassion and want to make a difference.
I feel compelled to try and do something. I just can't stand by and watch, knowing all that I know and not do anything about it. I have a responsibility to get the word out, and to be about the change, not just talk or write about it.
Which is why I will be joining hundreds of people on May 5th to lobby against solitary confinement in Albany. I want to be a voice for the voiceless and advocate for change in our laws to help stop the torture of solitary confinement.
Solitary confinement is torture. Trust me, prison is bad enough than to add the isolation and poor conditions of solitary confinement on a human being. We treat our animals better in this country than we do humans. This is a sad testament to the state of affairs and it needs to change.
If you are interested in joining us on May 5th, please click here for the details and sign up.
Has writing brought awareness on a particular cause in your life? If so, please share in the comment section below.
Posted in

blogging, christianity, Missions, writing
|
Also tagged Awareness, Change, Laws, Lobby Day, Lobbying, May 5, Mentally Ill, Prison Reform, Stop Solitary Confinement, Torture
Leave a comment
Free Updates

Sign up for updates and get the latest book reviews, articles, and news from OrdinaryServant.com. Just enter your email address below:

Follow

Recent Posts

Recent Comments

My Guest Posts

My Publishers

Categories

Archives

Previous Archives

Review Policy

Categories

Categories