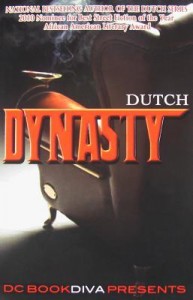 Paperback: 245 pages
Publisher: DC Bookdiva Publications
ISBN-10: 0578029464
ISBN-13: 978-0578029467
Price: $15.00
Purchase: DC BookDiva Publications | Amazon

Description
National Bestselling Author Dutch debut's "Dynasty", the first urban soap opera! The Bells and Simmons are family. The Bells, a crime family in New York, have the cocaine market on lock. The Simmons, hailing from the South, reign supreme in heroin. Talks of joining forces are suddenly stalled when family patriarch Guy Simmons is gunned down. Suspicions fly. Jealousy breeds. The body count rises. Guy Simmons has created a legacy he wants to pass on to his two sons, Kevin and Tyquan. However, his womanizing ways have spilled over and jeopardizes all he's worked for. The mothers of his sons hate each other. Like mother, like son. Guy s shooting has ignited a new brotherly beef; a beef that could have deadly repercussions, especially when you have a family where the enemy may lie within.
Review
This is the second book I've read by Dutch. I believe he is an excellent writer and storyteller.
Dynasty is rich with intrigue and drama, containing some interesting twists which will surprise you.
Dutch draws you in immediately from the start, and you won't want to put the book down. His characters are rich and vibrant, the story is detailed and believable. He is a gifted writer, who has an uncanny ability to teach as well as entertain you.
Dynasty is about two families, the Bells and the Simmons, but centers around the main protagonist, Guy Simmons. The surprises that are set off as a result of Guy's decisions will have you reeling.
All in all, Dynasty is a fabulous read. I highly recommend it and can't wait to read the sequel, Dynasty II.
Hailing from Newark, New Jersey, Dutch is the award winning, critically acclaimed, and Essence #1 bestselling author of the street classic Dutch trilogy. His other novels include The Adventures of Ghetto Sam and the Glory of My Demise and Thug Politics under the pseudonym Dutch. With a passion for writing, Dutch is hard at work on his next novel.