Tag Archives:
Tyndale Publishers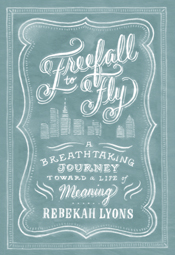 Hardcover: 200 pages
Publisher: Tyndale House Books (April 9, 2013)
Language: English
ISBN-10: 1414379366
ISBN-13: 978-1414379364
Price: $19.99
Purchase: Amazon | CBD | BN
Description
The Dark Night of the Soul in the City That Never Sleeps.
At first glance, Rebekah Lyons's life path seemed straightforward: walk the aisle, take the short road to motherhood, and build a family on a suburban cul-de-sac in the South.
But life looked radically different when her family relocated to the heart of New York City. She was forced to navigate a new normal with three kids, two toy poodles, and a minivan. Blindsided by crippling despair, Rebekah wrestled with bigger questions women often ask: Why am I here? Does my life matter?
In a Western culture driven by performance and Pinterest fantasies, her story echoes the rise of loneliness, depression, and anxiety that women are facing at all-time highs. Why are expectations and lifestyles breaking us down in unprecedented ways?
In this beautifully moving memoir of vulnerability, courage, and ultimately transformation, Rebekah shares her journey into the unknown—a thrilling, terrifying freefall that eventually led to flight. Searching for meaning, she stumbled on surrender, discovering that meaning follows surrender.
Rebekah found freedom when she faced her greatest fear, and she invites other women to do the same. For it is only when we freefall that we can truly fly.

Review
As much as I enjoyed Rebekah Lyons writing style, there were certain aspects of her memoir that I found hard to relate or identify with.
I am a working mom and she is a stay at home mom. She is afforded opportunities most working and stay at home moms do not. Which is why I believe her story specifically speaks to mothers or women who are from her same socioeconomic background.
I do understand and can relate to the author's feelings of angst and her struggles with anxiety and depression. Her struggle with wanting to find her specific calling besides that of being a wife and mother.
However, I have to be honest and say, most moms I know living in New York City do not have the time or luxury to go to someone's apartment in the morning for bible study, or go on retreats, or even have time to just walk through Central Park while it's snowing.
So if you are not of that lifestyle or demographic, it's kind of hard to relate to her story or put yourself in the author's shoes.
However, the author's story is hers and I respect her life and experiences. I believe Rebekah Lyon's memoir was candid, authentic and truthful. She didn't hide, she exposed a lot of herself and her experiences, which I appreciated. I also find her to be a talented writer, so on that front, I enjoyed reading her memoir.
If there was one word I could use to describe her book, it would be surrender.
Freefall to Fly was about Rebekah Lyons journey to find God and herself. In the midst of it, God delivered her from severe and debilitating anxiety attacks. I found this aspect of her story to be encouraging, but I do not believe this is common.
Most people do not get delivered from anxiety because they cry out to God in desperation. This was the authors experience, which I respect, however, there are many who have to be on medication and that is no indication God loves them any less because they weren't delivered.
In conclusion, I want to thank Handlebar Marketing and Tyndale Publishers for sending me a complimentary book to review.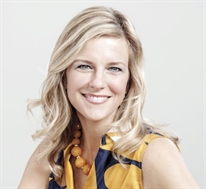 Rebekah Lyons is a mother of three, wife of one, and dog walker of two living in New York City. She's an old soul with a contemporary, honest voice who puts a new face on the struggles women face as they seek to live a life of meaning. As a self-confessed mess, Rebekah wears her heart on her sleeve, a benefit to friends and readers alike. She serves alongside her husband, Gabe, as cofounder of QIdeas, an organization that helps leaders winsomely engage culture.
Posted in

book reviews, christianity, faith, Healing, prayer
Also tagged Anxiety Attacks, Depression, Freefall to Fly, HandleBar Marketing, Memoir, Moms, New York City, Rebekah Lyons
Leave a comment
But without faith it is impossible to please him: for he that cometh to God must believe that he is, and that he is a rewarder of them that diligently seek him. Hebrews 11:6
I woke up with this scripture on my mind. I thought it apropos given the aftermath of the Allume Conference and Hurricane Sandy.
It was a blessing to be able to attend the Allume Conference and finally meet Tricia Goyer (who is an absolute sweetheart), Mary DeMuth, Sarah Markley, Sarah Mae, Jessica Heights, Christin Slade, Kelly Thorne Gore, Rachel Wojnarowski, Christy Stroud from Tyndale Publishers, Revell Publishers, Zondervan Publishers and so many other wonderful people.
We drove three hours to get to Pennsylvania, checked in and headed over to register. I was given a beautiful bag filled with goodies.
It was my first time attending this conference, so I wasn't sure what to expect. But I was definitely excited with the line up.
Darren Rowse (a.k.a. ProBlogger) and Ann Voskamp were on the top of my list. I never heard either one of them speak before.
I was really touched by what Darren Rowse shared at his key note. He didn't speak about how to make money with your blog, but more about his testimony and faith.
I enjoyed listening to Sarah Mae and Jessica Heights key notes as well. I love their hearts.
My hat goes off to Sarah, Jessica and their entire team for all their hard work and pulling off such an amazing conference. It truly was a success.
After awhile, it began to feel more like a Christian woman's conference than a blogger's conference which was refreshing.
My favorite place was the Prayer Room which was sponsored by The Seed Company.
Isn't the prayer room beautiful? I spent my free time there to unplug, pray and write in prayer journals. The Seed Company blessed us royally.
The highlight of this conference for me was hearing Ann Voskamp speak for the first time. I never read Ann Voskamp's blog or her best selling book, One Thousand Gifts. I only heard wonderful things about her through the grapevine. Now I know what they were all talking about.
Prior to her keynote, there were two videos shown by (In)Courage and Compassion International which moved me. I love to support causes helping disadvantaged children and Compassion International does amazing work.
After the videos, Ann Voskamp began to speak and tears rolled down my face. What she spoke about pierced my heart. I was riveted and touched by her every word. What an anointed woman of God. I pray I could get a copy of her key note, because I want to hear it again. I felt God used her to confirm what He was speaking to my heart throughout the conference.
Unfortunately, I had to abruptly leave right after she spoke due to Hurricane Sandy. We left and drove home to prepare for the impending storm. I do not believe I have to reiterate how devastating this hurricane was to our city. It was truly unprecedented. Please keep us in your prayers.
I am grateful the Lord is still in control and on the throne. Despite the devastation, I chose to see rainbows in the midst of the storm. I continue to pray for all those who were affected.
Please let me know how I can pray for you today. Please leave your prayers in the comment section below.
Posted in

blogging, christianity, faith, prayer, writing
Also tagged (In)Courage, Allume, Ann Voskamp, Avodah Coffee, Blogging, Compassional International, Darren Rowse, DaySpring, Hurricane Sandy, iBloom, Jessica Heights, Mary DeMuth, One Thousand Gifts, Problogger, PureCharity, Revell Publishers, Sarah Mae, The Seed Company, Tricia Goyer, Zondervan Publishers
10 Comments
Paperback: 400 pages
Publisher: Tyndale House Publishers, Inc. (August 17, 2012)
Language: English
ISBN-10: 1414335849
ISBN-13: 978-1414335841
Price: $14.99
Purchase: Amazon | BN | CBD
Description
After years of turmoil, Boone Drake seems to be back on track. He is the youngest bureau chief in Chicago Police Department history, he heads up the city's Major Case Squad, he has a new family, and his relationship with God has never been better. Still, Boone can't fight the feeling that something is about to go terribly wrong . . . again.
When disaster strikes, it seems Boone is destined to repeat the past, as tragedy threatens those closest to him. And when his own family's safety is at stake, Boone is forced to make a difficult choice–stay with his wife, Haeley, who desperately needs him, or pursue a human trafficking ring from the narrow streets, alleys and hovels of the famed hutong district in Beijing, China, to the ancient city of Tianjin. The stakes have never been higher for Boone as the all-too-personal case grows increasingly dangerous . . . and time is running out.
Review
I believe the last book I read by Jerry Jenkins was Left Behind, which I enjoyed immensely.  This was a different kind of story, but had the same element of having you at the edge of your seat.
Jerry Jenkins is a great writer and develops stories which are suspenseful and entertaining. He hooks you into the story from page one.
The development of characters were believable. He writes so well, I was able to see and feel everything.
Personally, I had difficulty with the main theme of the story, the harsh reality of human trafficking. I had to put the book down a few times because it was causing me anxiety.
The Breakthrough also touches on faith in a real way.
The main character Boone Drake is a Christian. Everything seems to be going well in his life. Until he gets a text out of the blue from his pastor which says, "Yet man is born to trouble, as the sparks fly upward." Job 5:7
Suddenly, everything starts to turn upside down in his life in a major way; from his wife Haeley to her abducted son. Boone is faced with some very difficult situations and decisions to make.
Thankfully, this book has a happy ending.
If you love suspense, I highly recommend this book. The Breakthrough does not disappoint.
In conclusion, I want to thank Tyndale Publishers for an advanced complimentary copy of this book.
Jerry B. Jenkins is the author of more than 175 books. His books can be found regularly on the New York Times Best Sellers List. He and his wife, Dianna, live in Colorado Springs.