Tag Archives:
Blogging
I know… it's been awhile.
So much has happened in the past twelve months between one thing or another. I have not been able to post much, and truthfully, I have not been up to it. But I wanted to update you… my dear subscribers.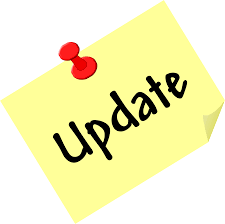 I have been reading when I can, but not regularly. Nor am I reviewing books. However, I have been vlogging intermittently. You can feel free to subscribe to my YouTube channel if you would like (please click here or you can  search for Pilar V. Arsenec to subscribe).
It's been over a year now that I have been struggling with my health which has unfortunately disrupted my life in more than one way. This, mixed with several other things, has adversely affected me. It has been the grace of God and the prayers of the saints that has kept me afloat.
I can honestly say these past two years have been one of the most difficult times of my life. I am getting hit on all sides. No exaggeration.
But through it ALL, the Lord is teaching me about Him, and my faith is slowly growing stronger.
These verses have become real to me,
"And he said unto me, My grace is sufficient for thee: for my strength is made perfect in weakness. Most gladly therefore will I rather glory in my infirmities, that the power of Christ may rest upon me. Therefore I take pleasure in infirmities, in reproaches, in necessities, in persecutions, in distresses for Christ's sake: for when I am weak, then am I strong." (2 Corinthians 12:9-10)
It has been a hard journey, but through the adversity, the Lord is revealing Himself to me in His Word. Not by any mystical experience, but just by the pure simplicity of the gospel.
As much as it has been an unpleasant time in my life, I do believe I would not have the understanding and discernment that I do now had I not gone through the furnace of affliction.
"Behold, I have refined thee, but not with silver; I have chosen thee in the furnace of affliction." (Isaiah 48:10)
Like the Apostle Paul, I am resigned to glory in tribulations also: knowing that tribulation worketh patience; and patience, experience; and experience, hope: and hope maketh not ashamed; because the love of God is shed abroad in our hearts by the Holy Ghost which is given unto us." (Romans 5:3-5)
So there you have it, my brothers and sisters in Christ. I would appreciate your prayers. I pray all is well with you and your loved ones. God bless you. 

Posted in

christianity, faith, Healing
Also tagged Blog, Blogger, Furnace of Affliction, healing, Illness, Jesus Christ, Overcoming, Pain, Refiners Fire, Suffering, Update, Vlog, Vlogger, Vlogging
Leave a comment
But without faith it is impossible to please him: for he that cometh to God must believe that he is, and that he is a rewarder of them that diligently seek him. Hebrews 11:6
I woke up with this scripture on my mind. I thought it apropos given the aftermath of the Allume Conference and Hurricane Sandy.
It was a blessing to be able to attend the Allume Conference and finally meet Tricia Goyer (who is an absolute sweetheart), Mary DeMuth, Sarah Markley, Sarah Mae, Jessica Heights, Christin Slade, Kelly Thorne Gore, Rachel Wojnarowski, Christy Stroud from Tyndale Publishers, Revell Publishers, Zondervan Publishers and so many other wonderful people.
We drove three hours to get to Pennsylvania, checked in and headed over to register. I was given a beautiful bag filled with goodies.
It was my first time attending this conference, so I wasn't sure what to expect. But I was definitely excited with the line up.
Darren Rowse (a.k.a. ProBlogger) and Ann Voskamp were on the top of my list. I never heard either one of them speak before.
I was really touched by what Darren Rowse shared at his key note. He didn't speak about how to make money with your blog, but more about his testimony and faith.
I enjoyed listening to Sarah Mae and Jessica Heights key notes as well. I love their hearts.
My hat goes off to Sarah, Jessica and their entire team for all their hard work and pulling off such an amazing conference. It truly was a success.
After awhile, it began to feel more like a Christian woman's conference than a blogger's conference which was refreshing.
My favorite place was the Prayer Room which was sponsored by The Seed Company.
Isn't the prayer room beautiful? I spent my free time there to unplug, pray and write in prayer journals. The Seed Company blessed us royally.
The highlight of this conference for me was hearing Ann Voskamp speak for the first time. I never read Ann Voskamp's blog or her best selling book, One Thousand Gifts. I only heard wonderful things about her through the grapevine. Now I know what they were all talking about.
Prior to her keynote, there were two videos shown by (In)Courage and Compassion International which moved me. I love to support causes helping disadvantaged children and Compassion International does amazing work.
After the videos, Ann Voskamp began to speak and tears rolled down my face. What she spoke about pierced my heart. I was riveted and touched by her every word. What an anointed woman of God. I pray I could get a copy of her key note, because I want to hear it again. I felt God used her to confirm what He was speaking to my heart throughout the conference.
Unfortunately, I had to abruptly leave right after she spoke due to Hurricane Sandy. We left and drove home to prepare for the impending storm. I do not believe I have to reiterate how devastating this hurricane was to our city. It was truly unprecedented. Please keep us in your prayers.
I am grateful the Lord is still in control and on the throne. Despite the devastation, I chose to see rainbows in the midst of the storm. I continue to pray for all those who were affected.
Please let me know how I can pray for you today. Please leave your prayers in the comment section below.
Posted in

blogging, christianity, faith, prayer, writing
Also tagged (In)Courage, Allume, Ann Voskamp, Avodah Coffee, Compassional International, Darren Rowse, DaySpring, Hurricane Sandy, iBloom, Jessica Heights, Mary DeMuth, One Thousand Gifts, Problogger, PureCharity, Revell Publishers, Sarah Mae, The Seed Company, Tricia Goyer, Tyndale Publishers, Zondervan Publishers
10 Comments
You Are a Writer
By Jeff Goins
Print Length: 77 pages
Publisher: Jeff Goins
Sold by: Amazon Digital Services
Published: 1st Edition April 27, 2012
Language: English
ASIN: B007YJEIAS
Price: $4.99 (Kindle)
Purchase: Amazon
Description
You Are a Writer is a book about what it takes to be a writer in the 21st Century.
Author Jeff Goins shares his own story of self-doubt and what it took for him to become a professional. He gives you practical tips for freelancing, how to get published in magazines, and what it takes to build a platform that brings the gatekeepers to you.
This journey of becoming a writer begins with a simple but important belief: You are a writer; you just need to write. Readers will learn the importance of passion and discipline and how to show up every day to do the work.

Here's what else you will learn:
How to stop waiting to be picked and finally choose yourself
What it takes to build a platform
Why authors need to brand themselves (and how to do it)
Tips for freelancing, guest blogging, and getting published in magazines
Different ways to network with other writers, artists, and influencers
The importance of blogging and social media and how to use it well to get more readers and fans of your writing
You Are a Writer is a book that will help you fall back in love with writing and make the connections you need to build your brand as a writer. It's about living the dream of a life dedicated to words.
And it all begins with you.
Review
I have had the pleasure of following Jeff Goins' blog for over several months now.  I was first introduced to his writing through friends on Twitter.  I was completely blown away.  I'm not exaggerating when I tell you that I love every single thing this man writes.
Jeff Goins is an incredibly gifted writer and communicator. He creates what Michael Hyatt calls in his book Platform, a "Wow" experience. Everything Jeff Goins does and writes is remarkable. I have learned so much from him by following his blog and participating in his writing challenges.
One of the things I love most about Jeff Goins is his heart.  He is kind, generous and a servant, which makes him such a great leader.  I am blessed to be a part of his tribe.
You Are a Writer is a brilliant book.  I started to read it and couldn't put it down. This book goes step by step on how to make "You Are a Writer" a reality in your life. The first step is by confessing, believing, accepting and then acting upon it.
The way I did it was by first looking at myself in the mirror and saying to my reflection, "You Are a Writer".  I confess I had to say it more than once to let it sink in.  It's incredible how much resistance I faced with while doing this simple exercise.  Those unrelenting negative voices kept trying to convince me otherwise.
After I did this, I took it a step further by confessing it to the world on Facebook, Twitter and my co-workers.  I was surprised and happy to get a lot positive responses, which was encouraging.
If you ever dreamed of being a writer or if you are one and not really pursuing it, I highly recommend this book.  You Are a Writer will definitely help, inform, inspire and encourage you!
Author
Jeff Goins is a part-time blogger, speaker and author. He works full-time for a nonprofit organization called Adventures in Missions, where he serves as the Communications Director. In his free time, he writes books and shares ideas worth spreading.
Originally from the suburbs of Chicago, Jeff graduated from Illinois College with a double major in Spanish and Religion. There, he spent a semester in Spain, which opened his eyes to different cultures and stretched his worldview.
After a year of travel and long-distance communication, he moved to Tennessee to chase the woman who became his wife. In 2008, he married her.
Since 2006, Jeff has worked out of his home, overseeing marketing, communications, and innovation teams from afar. He is passionate about not only telling great stories, but living them, as well.
His blog, GoinsWriter.com, is one of the fastest-growing blogs on the web and is a well-respected resource for bloggers and writers. In 2011, it won the Top 10 Blogs for Writers award on WritetoDone.com. Each month, he receives over 80,000 visitors to his website.
Jeff's work has been published online and offline in a variety of publications, including RELEVANT Magazine (which has a circulation of more than 150,000 readers), Copyblogger.com (voted by Ad Age as one of the top marketing blogs online), and ZenHabits.net (one of Time Magazine's Top 50 Websites for threes years in a row).
Jeff and his wife, Ashley, live just outside of Nashville, TN with their son and dog.