Tag Archives:
Social Media
It is said, life is a game.
The pieces on a chessboard are people maneuvering themselves into strategic positions to win.
The "game" is played on the streets as well as on the internet.
I've worked in Corporate America for almost 30 years, and there are unspoken rules there too.
You play the "game" right, you win.
You play it wrong, you lose.
Truth be told, I hate playing games.
I've always had a difficult time following a crowd or being part of a clique. I've never participated, and still don't.
I'm not antisocial. I'm just not into pretenses.
Which is probably why I frown upon words like, "community" and "tribe". It reminds me of a gang mentality.
Gangs are racist and discriminatory. They only accept people who are like them.
If you follow, you are accepted. If you say and do all the right things, you are in. If you don't, you are cut off.
Social media is a slippery slope.
Most try to climb the ranks like a gangster.
They become friends with you on Facebook or follow you on Twitter, with an agenda. In the hopes that you will help them, but never with the intention of getting to know you.
It's all about what you can do for them. How you can help them succeed or get ahead.
You see, it's hardly about "community".
Everyone follows and joins the bandwagon. They jump in head first to climb the ladder of fame.
The second you say "no" to something they want, you can best believe, they will unfriend or unfollow you in a heartbeat.
You no longer have any use for them, because you were just a "tool" to begin with.
Eventually, word gets around in the so-called "community" and you are exiled.
I don't know about you, but I am not interested in following the sheep or rather, herd mentality.
I don't need people's favors to get ahead. If God has something for me, then it's for me.
As with everything in my life, nothing was handed to me on a silver platter. I had to work hard and earn the right to have whatever I have today.
There are no political hand-outs or favors in my world.
I'm glad because I don't have an "entitlement" mentality that most people have. I don't walk around looking for ways on how people can help me or ask for favors.
Half of these people, who are in the same "community", are landing positions they aren't even qualified for. They got it by playing the "game", rubbing elbows and doing favors.
When it comes to art, homie don't play that.
My creativity came from God and I won't be exploiting it any time soon.
I don't subscribe to the "I'll scratch your back, if you'll scratch mine" mentality.
You can call it pride if you'd like, but I'm not stooping that low to get ahead, even if it means walking alone.
If I get anywhere with anything I pursue, it will be by the grace of God mixed with my sacrifice, effort and hard work.
Where do you stand on this matter? Are you buying into the dream their selling you?
This is Jon Acuff. He was kind enough to pray for me while I was dying of laughter. I was laughing so hard they were going to have to carry me out on a stretcher. I kid you not.
Anyone who can make me laugh and cry in one sentence is seriously gifted. I tried to hold back (as I was sitting in the front row) but to no avail. I couldn't help myself. I do not remember laughing and crying so much in a long time. My stomach still hurts days later from attending the Quitter Conference.
I believe the Lord wanted me at this conference. I had all the excuses in the book not to go, but yet and still, I felt the nudge of God telling me to go. The week leading up to the conference all hell broke loose. I can see why now, I was blessed beyond measure.
I have to be honest and admit that initially I did not have high expectations. I was even wondering if I was wasting my time and money by going. Also, leaving my family behind was definitely not my comfort zone. My boys were not feeling my leaving them.
As as matter of fact, my eldest son told me to never to do that again. He said next time I have to take him with me so he can make sure I am ok. I guess next time we'll have to make it a family vacation.
Initially, I thought the Quitter Conference was just a lot of hype. But I was so wrong. This conference was unlike any other conference I have been to in my entire life. I am not exaggerating.
I can see why everyone makes a big deal about Jon Acuff. He is such an authentic, down to earth and great guy. I had the pleasure of meeting and speaking with him a couple of times at the conference.
Let's just say this conference made me believe in my dreams again. Hello world, my name is Pilar and I am a reborn dreamer.
Besides hearing Jon Acuff, I also got to hear wonderful speakers such as Al Andrews, Matt Chambers, Jeff Goins and Alli Worthington. What an amazing line up.
Last but not least, the absolute treat of this conference was listening to Jon Acuff's favorite band, Seryn. They are now my favorite band. I want everyone to know about Seryn because I had a spiritual experience listening to them. I have never felt so much joy listening to a band in my life.
I have been a lover of music my entire life. I am also a singer, so I have been exposed and my ear trained to know good music. This band is simply amazing. You must see them live to get the full effect. Each band member knows how to play several instruments extremely well. They are virtuosos.
Seryn's lead singer Trenton Wheeler (isn't that a cool name), absolutely poured himself out. He is an exceptionally talented artist. His voice is unique, his sense of rhythm impeccable and his gift of playing several instruments is out of this world.
I guarantee you if you see them play live, you will be mesmerized and left in a trance. Since hearing them, all I've been doing is talking about them. I am hoping they will come play in New York City.
Thanks to my dear Quitter friends, Jon Acuff and the Quitter Conference, I am a reborn dreamer. I have renewed hope to pursue my passions and dreams. I was able to reconnect with my deep love of music and singing by going to this conference. I am not too old and I haven't missed the boat either. I am right where God wants me. So I am no longer dreading turning 46 in two weeks.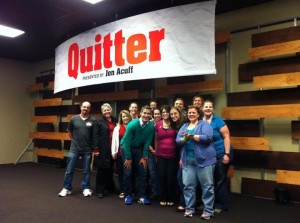 If there is one thing I took away from this conference is our dreams are not ours, but for others. I was deeply moved and inspired by this concept and it helped change my view of dreams.
In conclusion, I want to share a link of one of my favorite songs by Seryn. If you like their music, I encourage you to buy their latest CD on ITunes. You won't be disappointed.

Posted in

blogging, writing
|
Also tagged Al Stanley, Alli Worthington, Amy Anderson Fasbinder, Andi Cumbo, Christine Niles, Dreams, Jamie Kocur, Jeff Goins, Jim Woods, Jon Acuff, Matt Chambers, Music, Nashville, Quitter Conference, Seryn, Tammy Helfrich, Trenton Wheeler, Twitter, Unknown Jim
19 Comments
Ever feel like you are doing this in your life?
Lately, I've been feeling like this Orangutan.
I've been on walking the tight rope of life and it's turning out to be a balancing act.
This past weekend I had to take a step back and reassess my life. I knew if I didn't, I was slowly going to crash and burn.
I started thinking about how I wound up here. Why had I taken on so much? What motivated me?
I realized it all came down to fear. I was afraid to say 'no' and letting people down. I am the type who loves to help, encourage and support others.
This time I went too far in the people pleasing department.
I reevaluated what I was doing and why I was doing it. Granted, what I am doing is good and harmless.
However, is it what God wants and is He in it?
Am I really asking Him what He wants me to do? Or am I going about my business doing what I think is right in my own eyes? (Proverbs 21:2)
The truth is I haven't been asking Him. I got swept up in the fervor of helping others.
Before I knew it, I found myself in a cyclone, being thrown every which way. 
All because I didn't want to disappoint anyone.
So, guess what happened?
I started feeling worn down, worn out, exhausted and thus, unhappy. I realized I started to lose the proper spirit or attitude in my giving.
I was doing everything out of a sense of obligation, therefore, begrudgingly.
However, God loves a cheerful giver. (2 Corinthians 9:7)
The fault is mine and mine alone. Noone forced me or made me do anything. I made the choice.
However, when I had my meltdown this weekend, I realized something had to change. I couldn't keep going the way I was.
I also started to feel convicted about what I was doing and reached some conclusions:
God doesn't want us building kingdoms for ourselves on earth.
God doesn't want us pleasing others more than Him.
God doesn't want us to manipulate or scheme to get ahead or succeed.
God wants us to trust Him with the results.
Something was getting lost along the way with social media, (i.e., promoting and marketing strategies).
I know the Lord has been trying to get my attention because lately, the whole social media/marketing/promotion thing hasn't been feeling right to me.
Life is short to be trying to build our little kingdoms here on earth.
My husband made a valid point when he reminded me of what the Lord did to the Tower of Babel.
Christians are not suppose to take their lead from the world. We are suppose to take our lead from God.
Does this seem narrow to you?  Do you find it legalistic?
I am far from being a legalist, but I will say this, if whatever you're pursuing doesn't line up with the Word of God, then you are building on sand.
It's like those sand castles we build on the beach, they eventually get washed away by the waves. They simply don't last.
Such is our dreams and pursuits, if they are not Christ centered, then they won't last.
I don't know about you, but I'd rather art be inspired, blessed and prospered by God, than by man's scheming, marketing and promotion any day.
Personally, I'd rather just trust God with the success of anything I pursue, whether it be art, writing, singing, cooking, etc… You can't go wrong.
Whether therefore you eat, or drink, or whatsoever you do, do all to the glory of God. (1 Corinthians 10:31)
Do you agree? I would be interested in reading your thoughts on this.
Free Updates

Sign up for updates and get the latest book reviews, articles, and news from OrdinaryServant.com. Just enter your email address below:

Follow

Recent Posts

Recent Comments

My Guest Posts

My Publishers

Categories

Archives

Previous Archives

Review Policy

Categories

Categories